Winston in Morrinsville: Kicking the Hornets' Nest
Those who still doubt if whether or not New Zealand has a rural-urban divide should have been in Morrinsville yesterday at noon.
In response to a proposed tax on water, a protest was planned by the farming community of this lively Waikato town to voice their disapproval. The event was billed as non-partisan and apolitical, but those claims would be strongly discredited at the end of the day. 
With regional development a top priority for New Zealand First this election campaign, a group of us organized to attend the Morrinsville rally to show our solidarity for the farmers unfairly targeted by the unnecessary tax. Comprising the team were several electorate candidates, members of the Board of Directors and one MP in Mahesh Bindra.
As the event was declared non-partisan and apolitical, we refrained from making an overtly obvious politicking. In fact, the purpose for our attendance was not to win support but rather to voice out that we were also not amenable with the Labour Party's proposed new tax. At most, we wore our rosettes showing our affiliation to the Party and rode the noticeable "Straight Talk Express" Campaign bus which bore a "Party Vote" call-to-action.
Upon arriving at the event, we noticed several National Party signages in the area. The campaign vehicle of their Waikato electorate candidate, Tim van der Molen, was also parked prominently in the heart of the protest site. If those were acceptable, then we felt there was no problem parking our campaign bus or wearing our Party rosettes to the venue.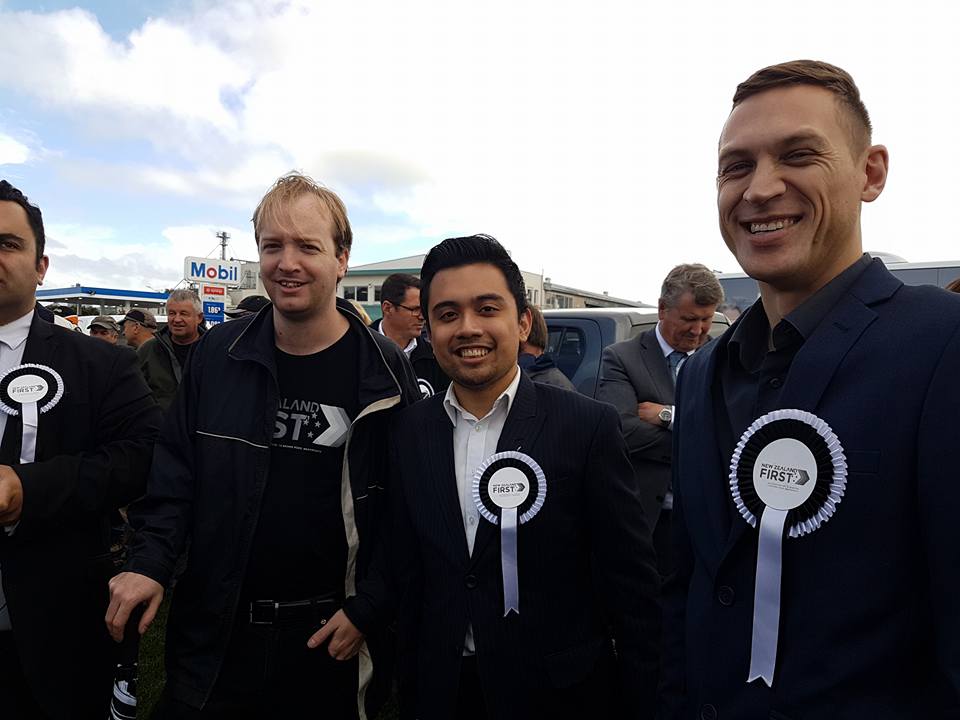 Rather than being hospitably welcomed to the venue, we found ourselves at the receiving end of hostile stares. The atmosphere for our group quickly turned cold, from the upbeat disposition we had on the trip heading here. There was boisterous laughter heard from the crowd, most of their eyes were fixated on our team.
Our group met up with our local candidate, Stu Husband, a farmer himself. He shed light on the nature of the crowd, explaining that the rally – although advertised to be apolitical – was actually organized by farmers sympathetic to the National Party. That would explain the abrasiveness of the crowd.
It quickly dawned on us that we had walked into a hornets' nest, there were a few hundred protesters there and our group comprised of no more than forty people. A large number of our contingent were elderly members of the Party, most of them were women. If a verbal battle would play out, we would be severely outgunned.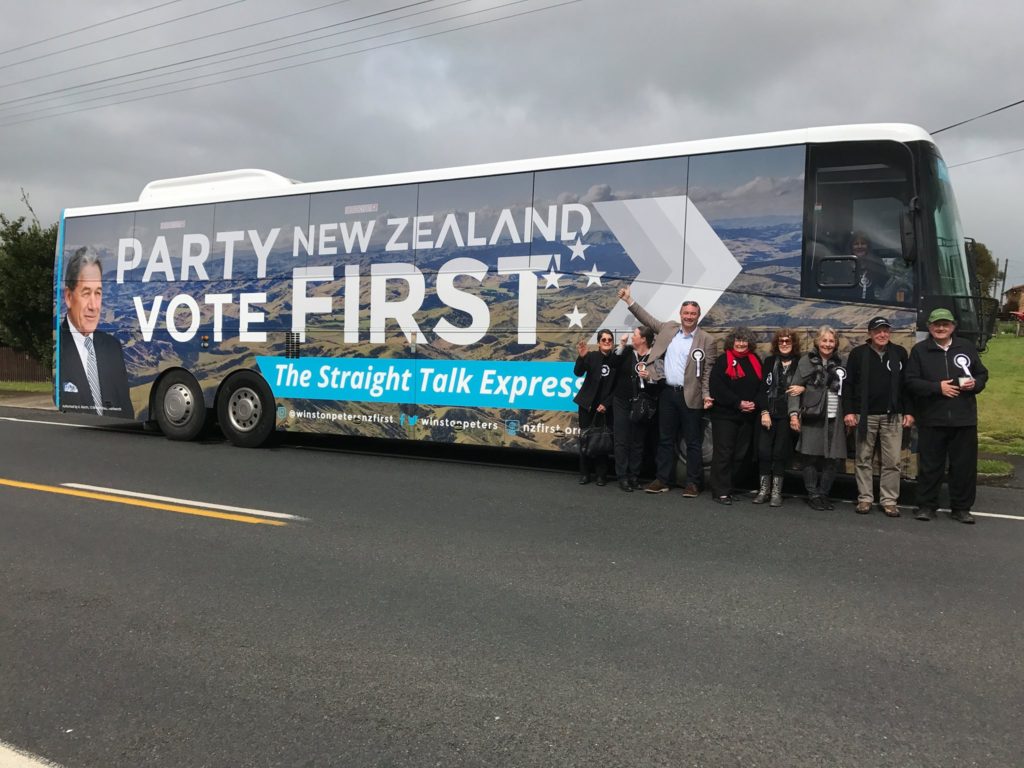 Our group tried to be as discreet as possible, not interacting with the locals unless they approach us first. I found myself in a conversation with some local protesters, who had asked me "which way Winston was going" – referring to which of National or Labour would the Party back if we held the balance of power. As cliche as it may, I gave the only correct answer namely that it would depend on post-election negotiations between the major parties. As expected, they did not buy that answer and instead went on a tangent as to how "gutless" and "untrustworthy" Winston and the NZ First Party were.
A part of me believes that the gentleman who had asked the question, along with 3-4 of his colleagues who listened and chimed in on how unpleasant Peters was, did not intend to start a constructive conversation and already held a preconceived distrust for our Party Leader. It was not an opportunity to let me persuade him, it was an attempt to rile me up. I later found out that several of my party-mates also faced the same scrutiny.
It could be the case that their displeasure of our presence was due to there being a competing Party to National, which after all had the electorate as one of their strongholds. We did have several of our election candidates present: Husband, Josh Hubbard (North Shore), William Flesher (Manukau East), Julian Paul (Epsom), Jon Reeves (Hunua), David Wilson (Te Atatu), Toa Greening (Papakura), Lester Gray (East Coast Bays) and Jenny Marcroft (Tamaki). However, the blue team also had a group of their candidates present – some with very high-profiles – which include Barbara Kuriger (Taranaki King-Country), Louise Upston (Taupo) and David Bennet (Hamilton East) in addition to the Waikato candidate van der Molen. Two of those individuals are Cabinet Ministers.
They could blame us for bringing political candidates to a supposedly non-partisan, apolitical event but they also need to answer why candidates from the other Party were there who included government ministers. The blame was on them as much as it was on us for why tempers flared and verbal tussles emerged.
The zenith of the tensions was when our Party Leader, the Rt. Hon. Winston Peters, arrived at the venue accompanied by list MPs Clayton Mitchell MP and Fletcher Tabuteau MP. Though unscheduled, a number of protesters in the crowd were supportive of Peters and called for him to take the stage. Many had booed when he got up on the platform and took the megaphone, with shouts of "coward" and "which way, Winston?" audible.
The Party Leader was unable to make a coherent speech, being interrupted by a boisterous crowd with one disruptor going as far as activating his tractor to block out the speech. That same individual with the tractor then ran over Stu Husband's foot, causing him to react angrily. By then, angry protesters stormed the platform and began hurling abuses at Peters. One of them was National MP Barbara Kuriger, who was caught on video yelling at Peters while he was giving a speech.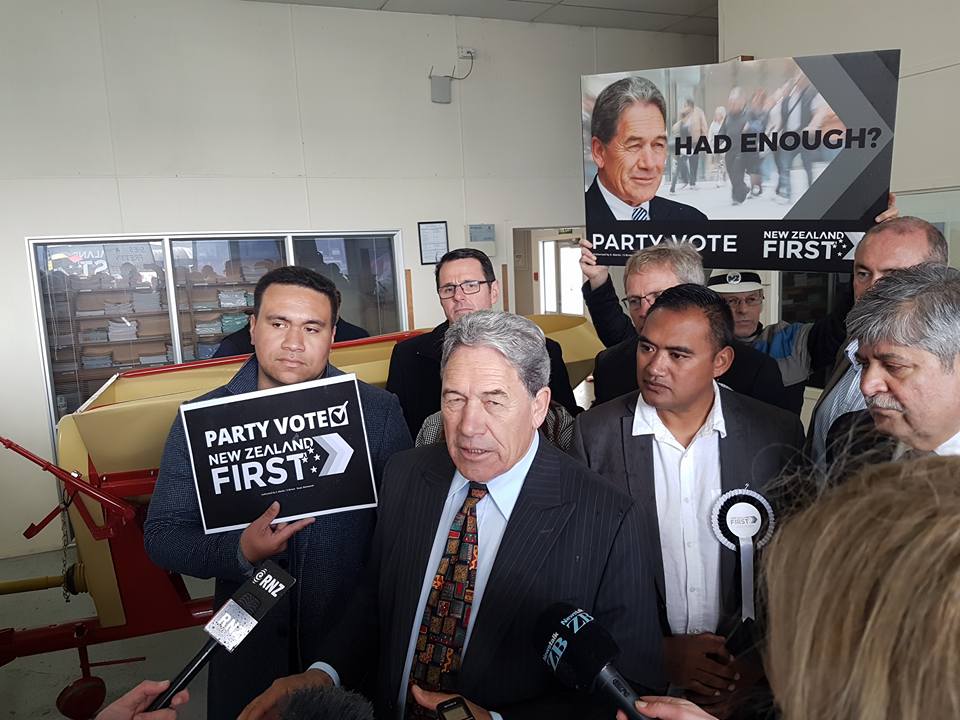 Pandemonium broke out and the Leader was unable to finish his address. He would instead make his way to an indoor location to talk directly to the media, flanked by his caucus colleagues Tabuteau, Mitchell and Bindra.
Most of the group had retreated back to the campaign bus, taking refuge. Some, myself included, stayed behind the protest site to confer with the anti-NZ First protesters. The comment given to me from one seemingly agitated middle-aged lady finally made me realize why they disliked us so much, she had told me to: "Go back to Auckland! You and your suit…", she said with a look of disgust on her face.
Beyond the rosettes, campaign bus and campaign signages we brought the one thing I had failed to take into account was our attire. We were in the heart of regional New Zealand, a farmers' area with humble, small-town manners. To be there wearing flash suits and well-polished dress shoes made us stand out like a sore thumb; a representation of the snobby, big city elites that these farmers had come to distrust.
It became clear to me just how big the rural-urban divide in New Zealand was. Despite Jacinda Ardern being a daughter of Morrinsville, the fact that she displays Auckland values and proposing a policy such as a water tax made her one of the big-city elites that riled them enough to host a protest. These protesters felt she was too out-of-touch and with Winston expected to hold the balance of power, which means he could potentially prop-up a Jacinda Ardern-led government, means that they could not trust him nor his Party either.