New Zealand is facing its worst measles outbreak in 22 years, and it is no coincidence that our vaccination rates have been steadily declining in the years prior.
Parents refusing to vaccinate their children has become such a problem that Prime Minister Jacinda Ardern has made a public plea to them, but with a burgeoning anti-vaccination movement gaining traction online with some pop culture celebrities amplifying their disinformation campaign – changing their minds will be a challenge even greater than the measles epidemic we currently face.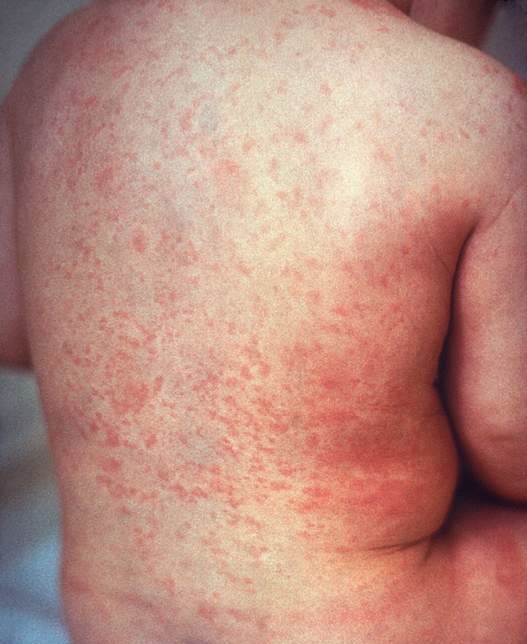 There have been 850 cases of measles confirmed in 2019, with Auckland bearing the brunt of these new incidences. The head of the Starship Children's Hospital issued a stern warning that "children are likely to die" from measles-related complications if not given the proper care, and pleaded parents to vaccinate their children and adults who have not received it during childhood should get immunised immediately.
It should have been common sense to do so already, the Ministry of Health (MoH) in New Zealand and also the World Health Organization (WHO) both have a plethora of resources to help concerned parents of the efficacy of vaccines. But a plague of disinformation online have made countless households turn their back on proven science, and instead have made preventable diseases such as measles, whooping cough, and mumps thrive at a time when we posses the capability to eradicate them.
And yet New Zealand faces its worst measles epidemic in more than two decades, a testament to how powerful a coordinate disinformation campaign can be. Media outfit stuff.co.nz reports that anti-vax groups, such as Authentic Resistance in Auckland, are spreading lies that a natural "immunity" for diseases such as measles is possible.
Renowned vaccinologist and University of Auckland academic Dr. Helen Petousis-Harris has asked the MoH to not only ensure children are vaccinated, but also to combat the fake news spreading on the internet – throwing pseudo-scientific information at parents. The senior lecturer in the university's Faculty of Medicine and Health Sciences has written lengthy articles to counter the anti-vaccine narrative that pseudo-scientific groups are purveying.
Dr. Petousis-Harris' proposal makes sense, what good will having measles vaccines in our DHBs bring if parents refuse to allow their children to receive it?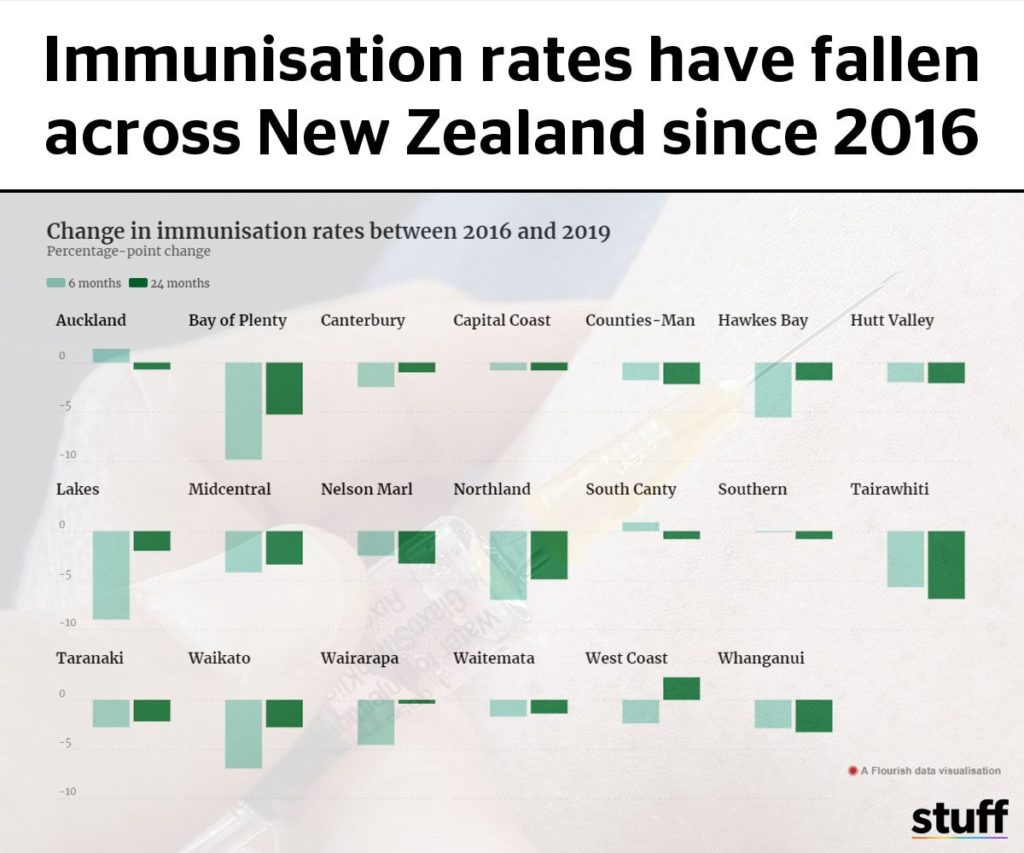 The graph above from stuff.co.nz also shows data of immunisation rates between 2016 and 2019, a general decreasing trend can be seen. In Auckland, while immunisation rates have picked up in the last six months there was a downward trend in the past two years – undoubtedly contributing to the present-day measles epidemic the region is experiencing.
It is also noteworthy to see plummeting immunisation rates in Northland, and its regional DHB chief Dr. Nick Chamberlain attributed that phenomenon to the screening of an anti-vaccination propaganda film shown in the region last year. The province north of Auckland also suffered an outbreak of the meningococcal W strain late last year, prompting the Government to introduce a free immunisation program against the deadly virus.
Despite seeing three deaths in the region by November last year, the Northland DHB are reporting that "large numbers of parents" are declining the free vaccine offer – no doubt because of the fear-mongering campaign brought about by vaccination opponents.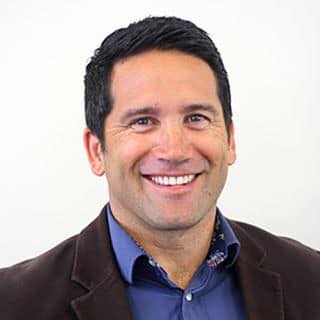 Northland physician and 2014 New Zealander of the Year, Dr. Lance O'Sullivan made headlines when he interrupted the screening of another anti-vaccine film in the region in 2017. The acclaimed doctor took the sage before telling the audience that night: "your presence here will cause babies to die", he then shared his informed views on the issue of vaccination.
Many felt that it was unnecessary for O'Sullivan to have done that, but had a corrupt campaign not been allowed to happen – thus preventing a distortion of facts in the minds of Northland locals – would they have seen a downward spiral of their children getting vaccinated?
Hence, government policy intending to tackle the measles, meningococcal, and other potential epidemics should not only deal with the supply of available vaccines, or the financial accessibility of getting immunised, but should also look at educating the public on the efficacy and perceived risks of getting vaccinated. Drive home the point that there is greater risk of harm in not vaccinating one's child, than in doing so.
It is in the best interests of the government to do so, the strain placed on our DHBs by patients with measles or the meningococcal disease, or any other ailment related to not getting immunised, affects society as a whole – as those who are vaccinated and are immune from these diseases would still be inconvenienced, or perhaps put at risk, by overcrowded hospitals and health clinics.
Financial savings made by our DHBs by not having to treat patients who have preventable diseases also adds to the viability of such endeavor, and ultimately it is vital that young lives are not put at risk unnecessarily.