He is known for his hard-hitting style of broadcast journalism, exposing scalawag cops and publicly shaming errant taxi drivers, proclaiming it to be public service. Because of this, Erwin Tulfo – a radio host and TV personality – has assumed the persona of a defender of the masses.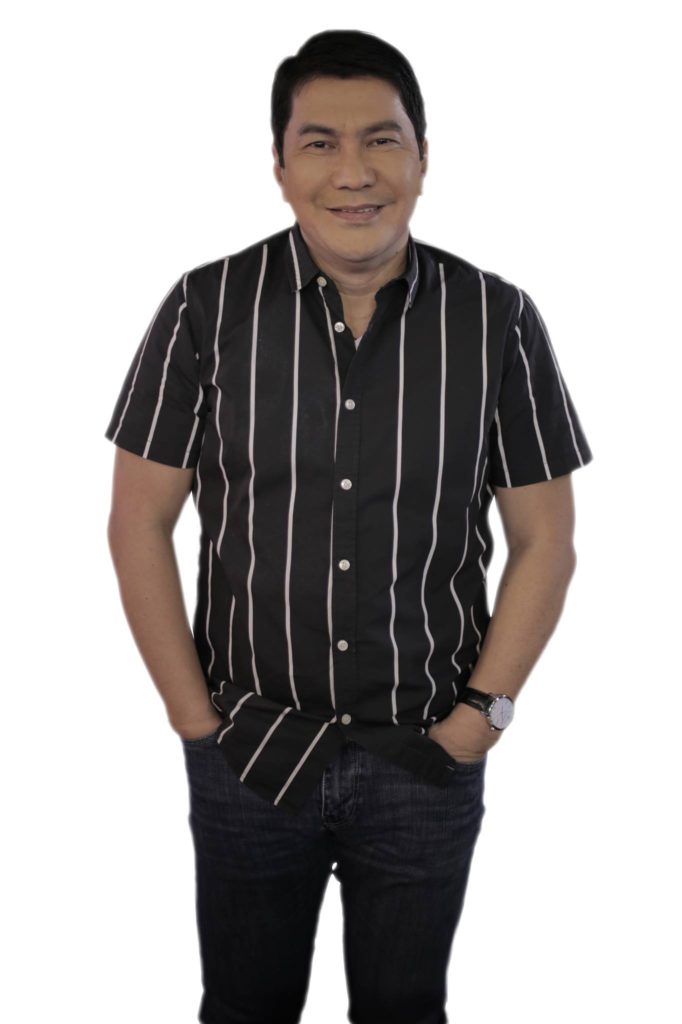 However, effective journalism is a double-edged sword – if used for righteous reasons it can be a force for good and help the plight of the oppressed. If not, it can be a formidable evil that would instead aid in the abuse of the public.
Last month, Tulfo visited New Zealand under the guise of liaising with the local Filipino diaspora community.  He made stops on dairy farms to connect with Filipino dairy farm workers, interviewed a Filipino wheelchair basketball player and graced an event of the local President Rodrigo Duterte supporters club called D.D.S. (Die-Hard Duterte Supporters).
None of these acts were suspicious, given that overseas Filipino workers (OFWs) are popular subjects for Philippine media firms to feature and by sharing their stories they can also help other Filipinos who plan to migrate to New Zealand one day. Even Tulfo's attendance at a partisan event should not raise eyebrows, as it is no secret that he is a supporter of the current President (his sister, Wanda Tulfo-Teo, is Duterte's current tourism secretary).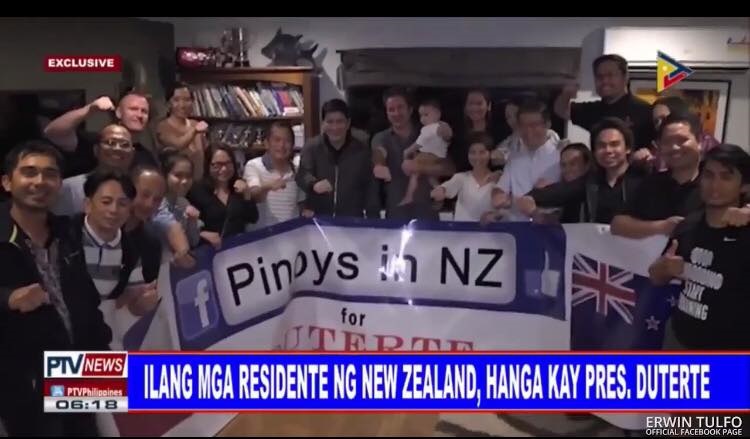 What did ruffle some feathers, particularly among the Philippine Embassy to New Zealand staff, was the blatant endorsement by Mr. Tulfo of a travel visa consultancy firm named Pinoycare Visa Center. In most of his dispatches from New Zealand, he repeatedly featured Pinoycare  and how they can help migrants obtain a student visa which is "the quickest pathway" to migrate to New Zealand.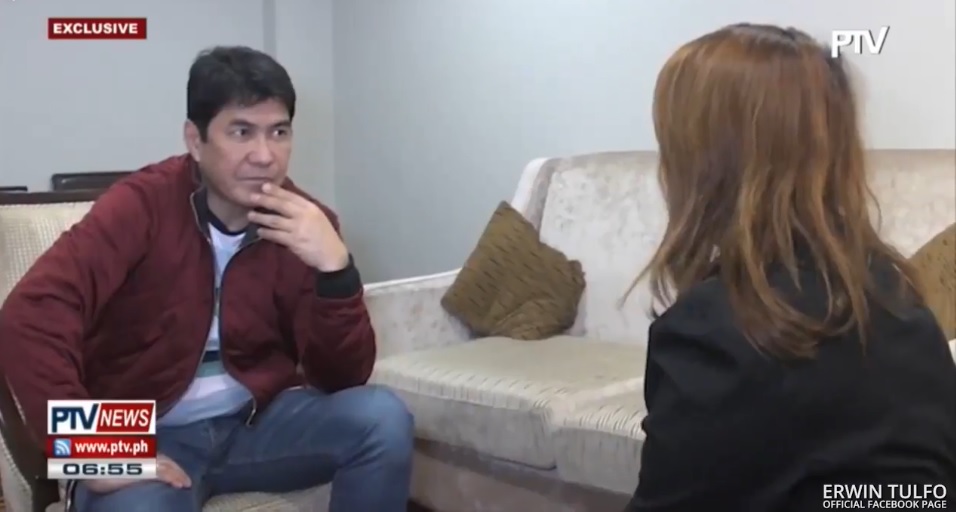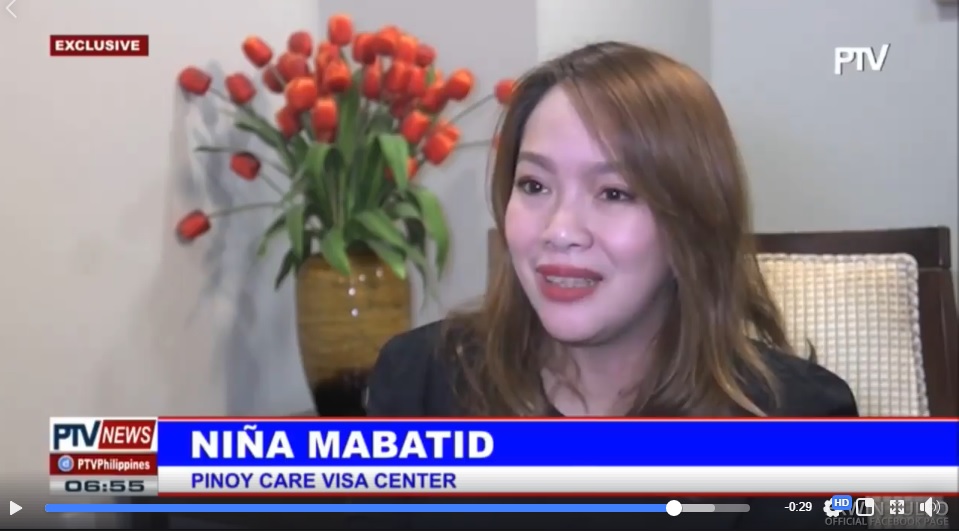 In one Facebook post, Tulfo's endorsement of Pinoycare was very obvious: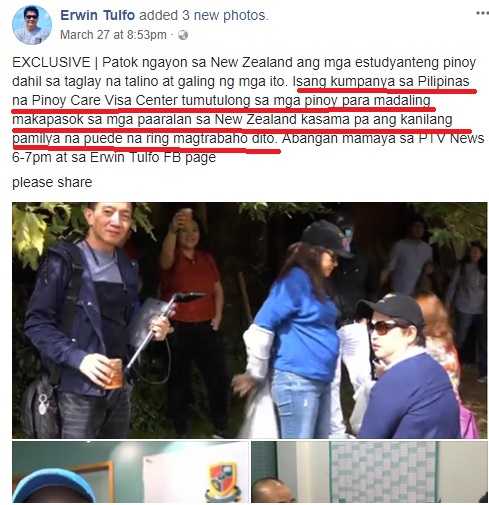 You can also tell how Mr. Tulfo (or whoever runs his page) juxtapositions an endorsement of Pinoycare with a feature story about a successful OFW in New Zealand. It is a good marketing strategy which will make the visa agency synonymous with successful migration to New Zealand.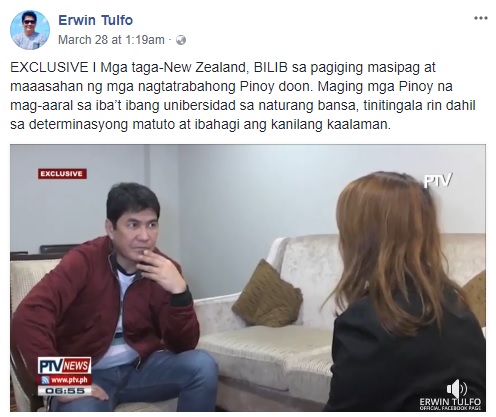 Case in point the above screenshot, taken from Tulfo's Facebook page, the feature was on Filipino farm labourers and students in New Zealand but ended with a segment with Pinoycare's CEO on how their agency is offering student visas to aspiring migrants to New Zealand.
Then there was coverage on educational tourism alone, which featured Cornell Institute of Business and Management (no affiliations with the prestigious Cornell University of the United States) and one of its staff who is Filipino.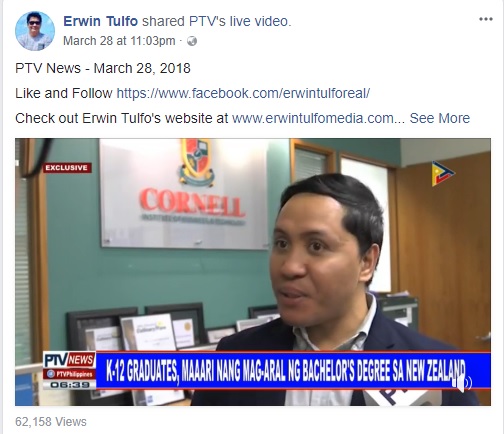 The feature was mostly on bachelor's degree opportunities in New Zealand which Filipinos may apply for, but again it ended with a segment about Mabatid and her Pinoycare agency: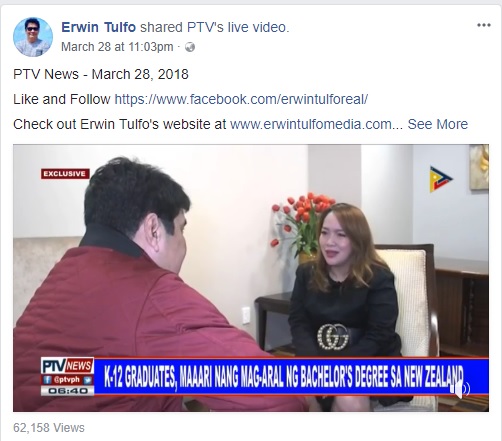 It is very evident that Tulfo was aiming to promote not just educational tourism to New Zealand, but the Pinoycare agency itself. But why would he want to do that? Is he a paid endorser of the said brand?
In a Facebook live video on Tulfo's page, he cited Mabatid's and Pinoycare's help in bringing him to the country. It would only make sense then, for the pundit to be very enthusiastic about educational tourism and in endorsing the said agency given that he had benefited from their generosity.
It would also make sense for Pinoycare to secure the services (and starpower) of the well-known radio pundit, given that their business is languishing among their competitors: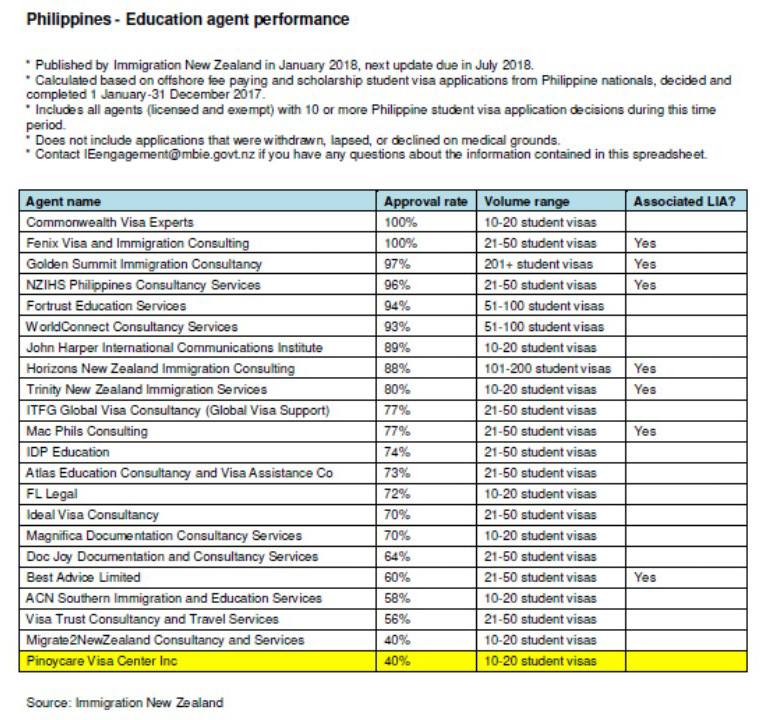 Based on statistics from Immigration New Zealand (INZ), Pinoycare Visa Center Inc, is one of the worst-performing education tourism agents catering Filipino migrants based on visa approval rate. Rather than improving their work culture and their services, they instead chose to employ a "spin doctor" to make their brand more palatable.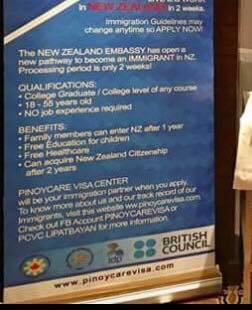 Perhaps it would help Pinoycare a lot more if they chose to be more truthful about their services. Just recently, one of their billboards went viral for containing misleading information.
The promotional material states that Filipino migrants can avail of a student visa to enter New Zealand to live and work, which the said agency can secure in just two weeks! The ad also claims that family members can enter the country after 1 year, and that their children will benefit from free education and free healthcare.
Even more appalling, the ad then makes the claim that these migrants can acquire New Zealand Citizenship after just two years! It is a well-known fact that the minimum number of years a foreign-born migrant needs to reside in the country, in order to be eligible for citizenship, is five years.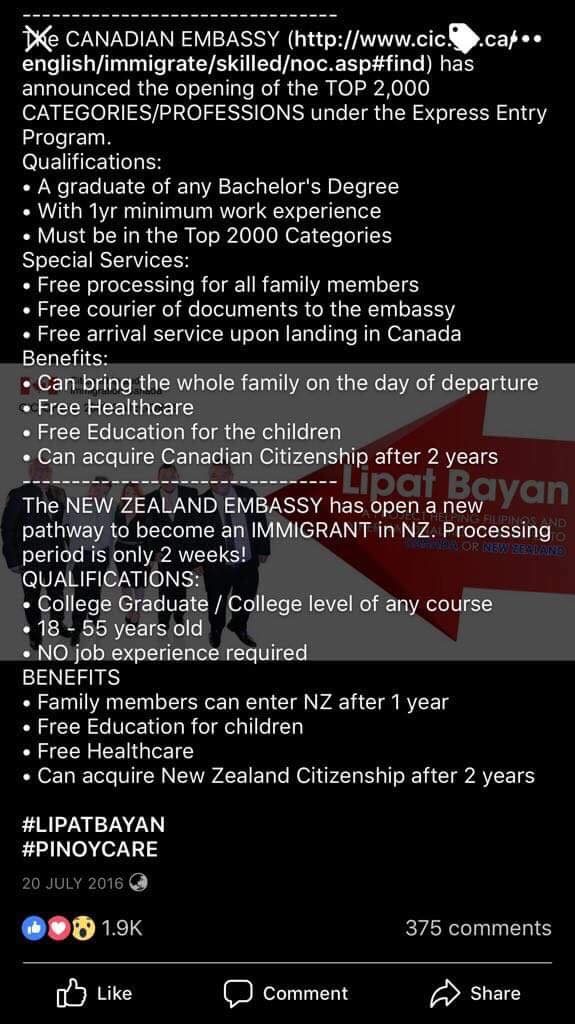 Those five years only count AFTER one has obtained permanent residency beforehand, which means that on top of those five years you also need to wait for however number of years to acquire permanent residency status – which by the way, requires one to have a skilled work that is in the skills shortage list of New Zealand.
It is highly doubtful that a migrant who lives in the country as a student could qualify even for permanent residency, much more citizenship!
There have been attempts made by individuals associated with Pinoycare to deny the promotional banner, stating that it is a fraudulent banner which wrongly uses their company name. However, a photo of Ms. Mabatid herself posing with of the very same banner has surfaced online.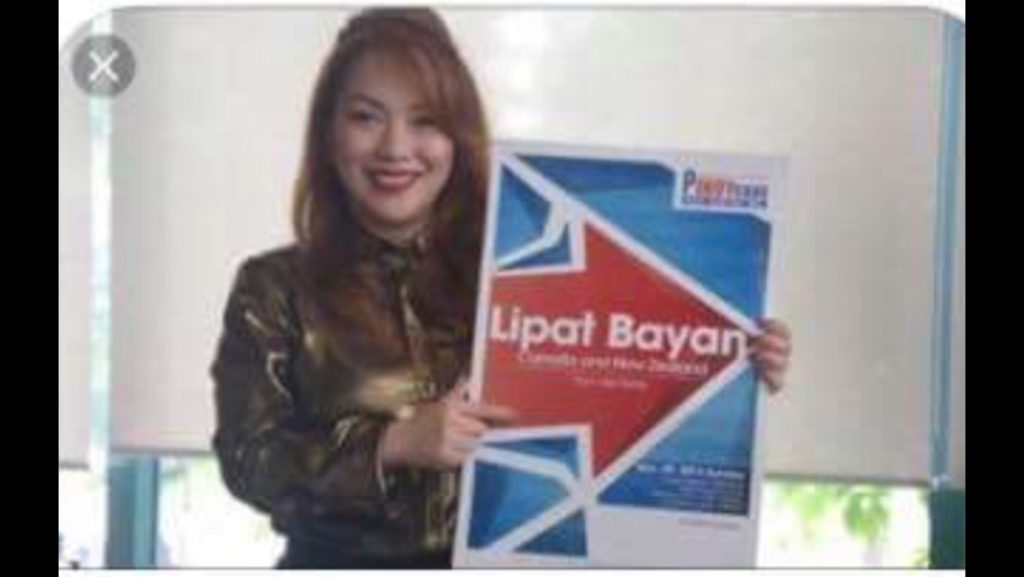 This proves that aside from immigration consultancy, Pinoycare also deals with the sale of false hopes to well-meaning migrants who are desperate to secure a better life for their families.
It is dubious entities such as this which imperil the well-being and economic security of the OFWs. By endorsing them, Tulfo has participated in whatever acts this company may be liable for and has spread false information to the public – violating the standard ethics for journalists like himself.

When the welfare of overseas Filipinos are being put at risk, the first response should naturally come from the Philippine ambassador of that country. Thus, the Philippine Ambassador to New Zealand – the Hon. Jesus 'Gary' Domingo – called for greater clarification over the products being offered by Pinoycare as well as the statements made by Erwin Tulfo.
Incensed by the gesture, Tulfo launched a smear campaign against the Ambassador – framing the former's actions as partisan and discriminatory towards Filipinos. In a Facebook video on his official website, the veteran broadcaster said that the Ambassador's response was due to his opposition to more Filipinos arriving in New Zealand:
He made no mention of the student trafficking concerns that the Ambassador and the Philippine Embassy in New Zealand were showing concerns about.
To make matters worse, in another Facebook video that was expletive and profanity-laden Tulfo made further false accusations that the Ambassador was vindictive towards Filipino migrants in New Zealand because they were "largely pro-Duterte". The broadcaster made the very curious link to the Ambassador's grievances towards student trafficking to Philippine partisan-politics:
Not only was this latter video largely inaccurate and intentionally deceitful, it was very rude, crass and bereft of any of the ethics which journalists are expected to have. Rather than presenting a factual account of the events, Tulfo chose to air his diatribes and demonstrate his lack of decency instead.
In the past, Tulfo had aired his criticism of the Philippine political opposition for allegedly airing out "fake news" or news that convey false information and wrong facts. Ironically, in this instance it is the veteran broadcaster himself who is giving false information to his audience.
Tulfo's actions should axiomatically remove any distinction he has of being a journalist, since he falls short of the standards required of journalists. The Kapisanan ng mga Brodkaster ng Pilipinas (KBP; Translated as: Association of Broadcasters of the Philippines) is a media broadcast organization which provides journalists with appropriate broadcasting standards, they need to review the behavior of Tulfo and sanction him accordingly.