Today is widely known in the Western world as "April Fool's Day", a day where peers pull practical jokes on each other and spread false information for the sake of humour. Sadly, for many influential supporters of President Duterte their observance of this novelty holiday happens more regularly than every April 1st.
Ever since the election of President Donald Trump in the United States, there has been much focus on what we now refer to as "fake news" – or false information being portrayed as legitimate news articles for any gain, mostly political. Critics point to hoax news reports that went viral on social media for Trump's victory, these shared articles often claim positive achievements made by the businessman which turned out to be hoaxes.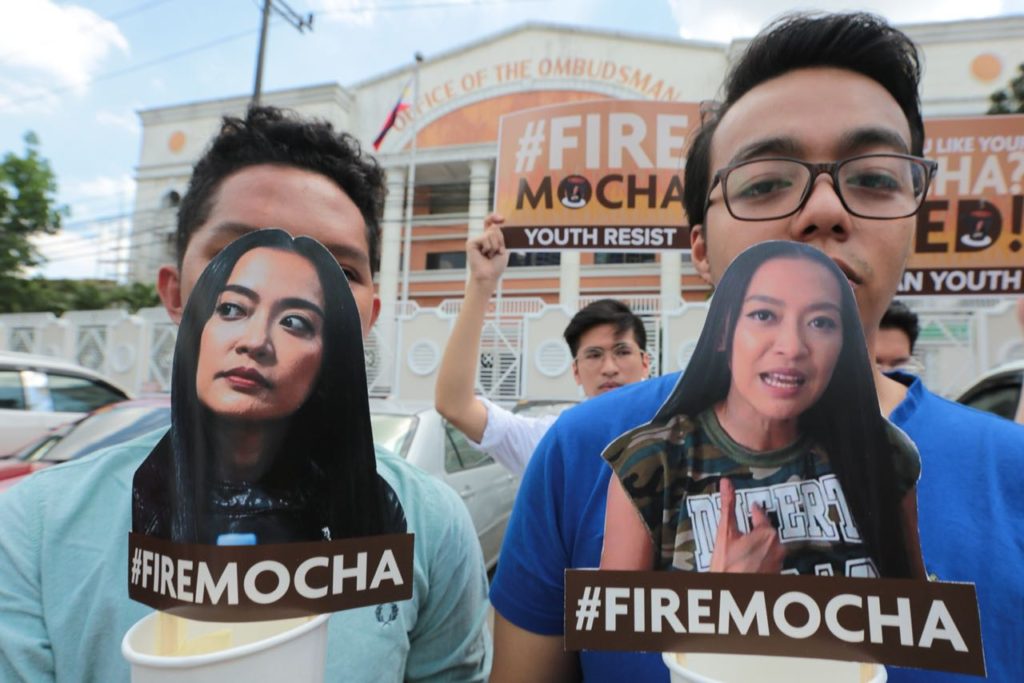 This week, student activists belonging to Akbayan Youth bared an administrative complaint against celebrity blogger and staunch pro-Duterte supporter Mocha Uson. The latter was appointed as Undersecretary of the Presidential Communications Operating Office (PCOO) shortly after the Presidential election which she actively campaigned for Duterte on social media, reaching through the hundreds of thousands of followers she had at that time.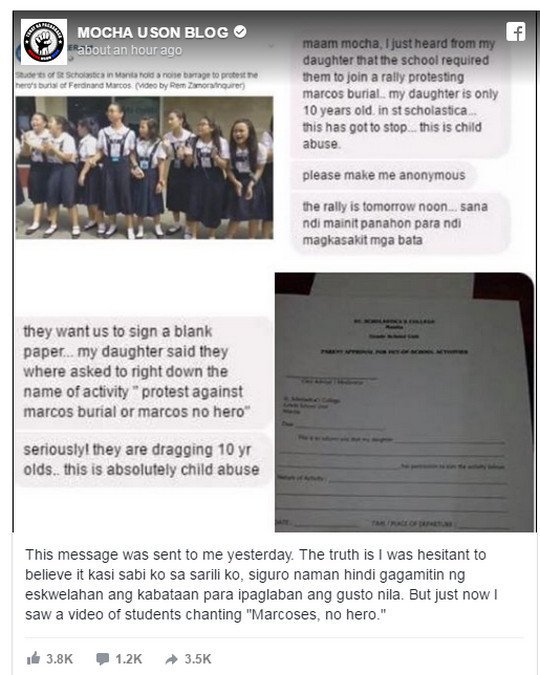 The complainants called Uson a "threat to the security" of people opposed to the administration, and for conveying false information on various media platforms – or "fake news". Examples of which include the latter's claim that students of St. Scholastica College, who staged a protest rally opposing the hero's burial of President Ferdinand Marcos, were manipulated and coerced by their school's administration into performing the said act.
This was later disproven by a student who participated in the protest herself. Shibby de Guzman, who held the megaphone at the protest and rallied her comrades to chant those slogans, said that she and her fellow protesters knew exactly what they were doing. On social media, she challenged Uson and others who believed that they were forced to rally: "Please do not underestimate the youth. We completely know and understand the injustice we are protesting against."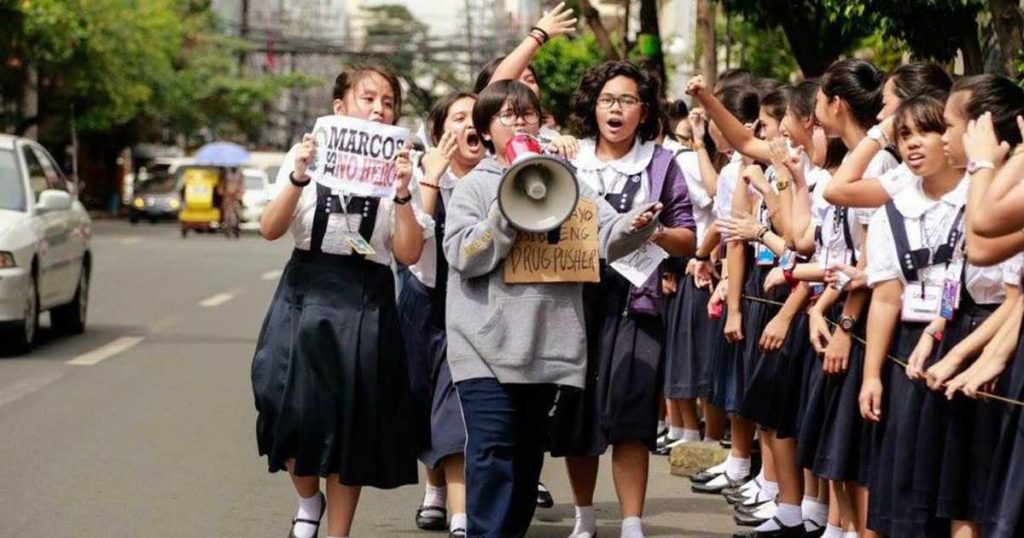 Another key difference with Uson's blog is rather than using legitimate, highly-trusted media organizations as her sources she instead uses obscure blogs and "news sites" with no credibility. One of which is called, "verifiedph.blogspot.com", a page created from the popular free blogging website Blogspot.com.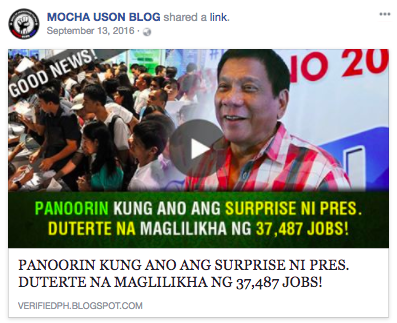 As it is free and relatively easy to sign-up for, anyone could have created this self-proclaimed news website, and their sources of information are unknown – that is, if they have any to begin with. In one Facebook post, Uson publishes a link from their website claiming that Duterte has a "surprise" which will "create 37,487 jobs" for Filipino workers.
Upon clicking the link, the article reads that they "have overheard" that there will be "many new jobs expected this year and early on next year". The author claims that the number of jobs is "roughtly [sic] 37,000" and will mostly be in the "power and infrastructure" sectors.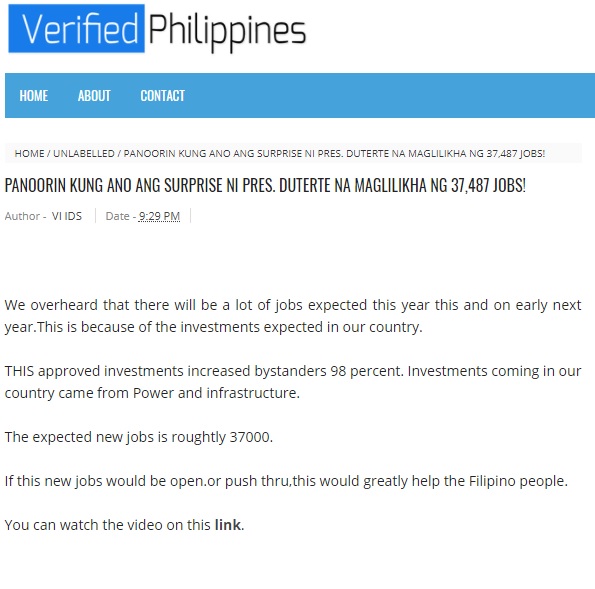 Posting false content that casts President Duterte or the late Ferdinand Marcos in good light are not the only specialties of Uson, she also utilizes "fake news" to smear political foes of the two individuals. In 2017, news of a 17-year old boy named Kian de los Santos killed in a police operation by the Philippine National Police (PNP) drew criticisms of the President and his brutal war on drugs.
The spin from the pro-Duterte social media influencers, Uson included, was that De los Santos was being used as a political prop by the Opposition. She posted a link to an article, again by an obscure "news" website called "PinoyTrending", stating that the victim's father claimed that members of the Opposition asked his family "to parade Kian's body in EDSA".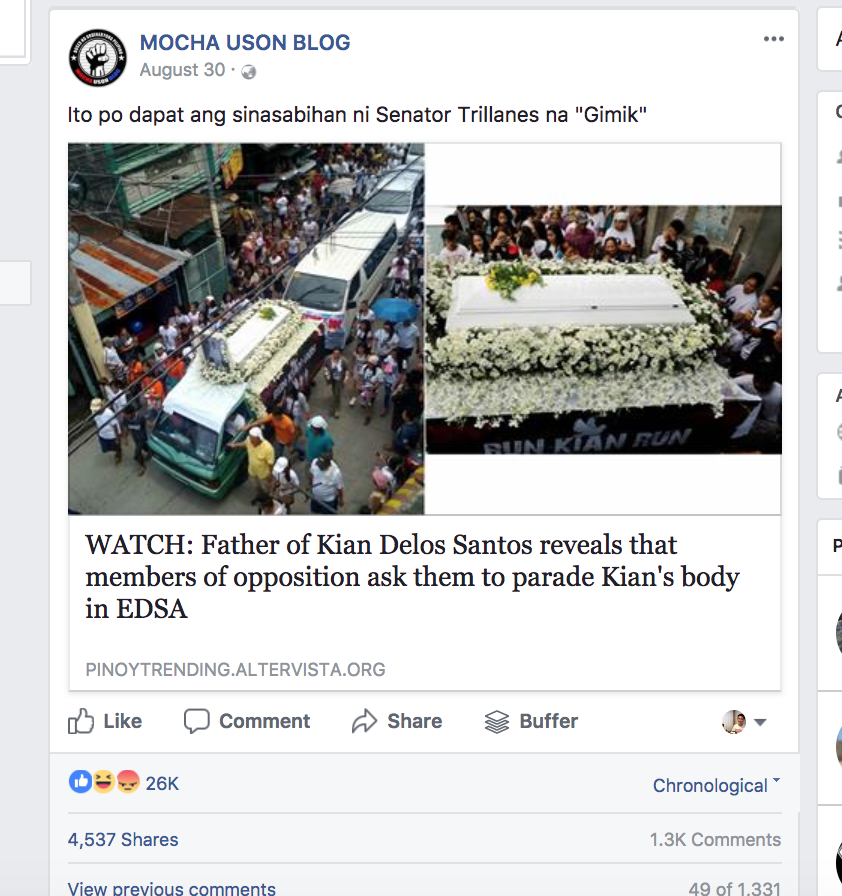 The article states that: "groups that opposed the Duterte's War against illegal drugs wanted to bring the body of the senior high school student in EDSA People Power Monument as part of their rally against the administration." The author made the claim from a direct quote by Kian's father in an interview with ABS-CBN's TV Patrol news program, who said in Tagalog: "Their plan was to bring Kian's body in EDSA. I don't know, maybe they are going to rally, but I refused."
At no part in the interview did the father mention the members of the political Opposition, nor any political groups. The interview simply recorded him saying "some groups", which means that the author of the news article jumped the gun completely with their reporting or is deliberately trying to mislead readers.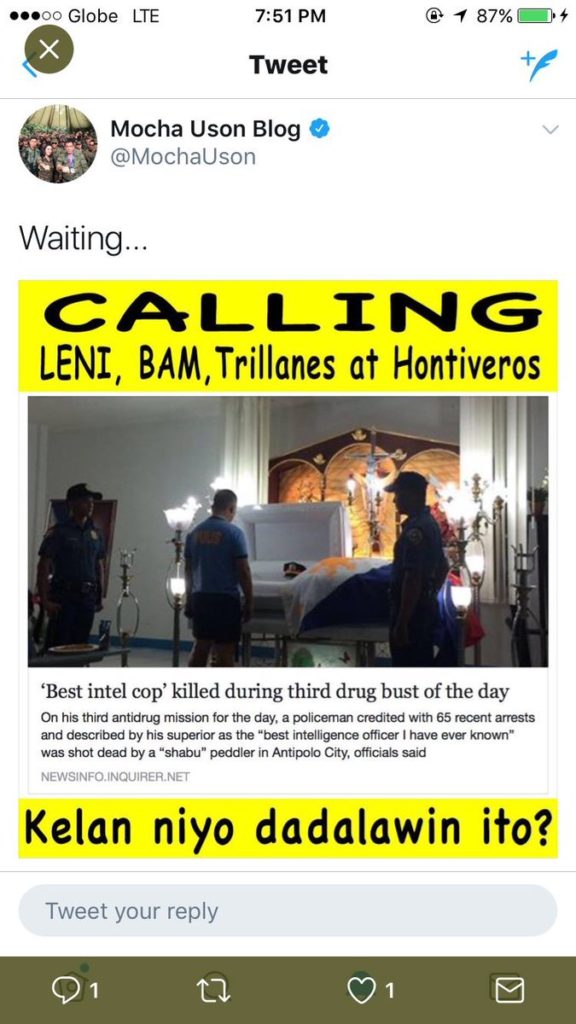 Uson was correct to say that using the death of a teenage boy as a political tool, and to take advantage of his grieving father, is tasteless and crass. The reality however, is that it was Uson's side that was guilty of doing this.
The post above was not the only time that De los Santos' death was the subject of a fake news report attacking Duterte's critics, in another post by Uson on social media she took aim at Opposition Senators who visited the wake of the slain teenager. She posted a meme showing a news report, this time from a reputable media source inquirer.net, depicting the wake of the "best intel cop" who was killed during anti-narcotics operations.
The meme asks: "Calling [Vice-President Leni] Robredo, [Senator] Bam [Aquino], [Senator Antonio] Trillanes and [Senator Risa] Hontiveros…when will you visit this [wake]?"
It was a post meant to portray the Opposition as biased towards the victims of the drug war, without showing any empathy for the police officers who are enforcing it.
The truth however, is that the news article shown in the meme was about a cop killed a year before the death of Kian de los Santos. Senior Insp. Mark Gil Garcia was killed a police operation on the 20th of August, 2016 – his death had no relevance to the death of Kian. Even if the Opposition senators considered Uson's challenge, it would not be possible to do so given Garcia would have already been buried for over a year at the time she posted the meme.
Sadly, it appears Uson is not interested in verifying her posts for accuracy – only for their efficacy in smearing the Opposition or improving the name of President Duterte or the late dictator Ferdinand Marcos. The irony however, is that she currently serves as a top-ranking government official under the head-of-state's communications arm – and yet she blatantly spreads disinformation.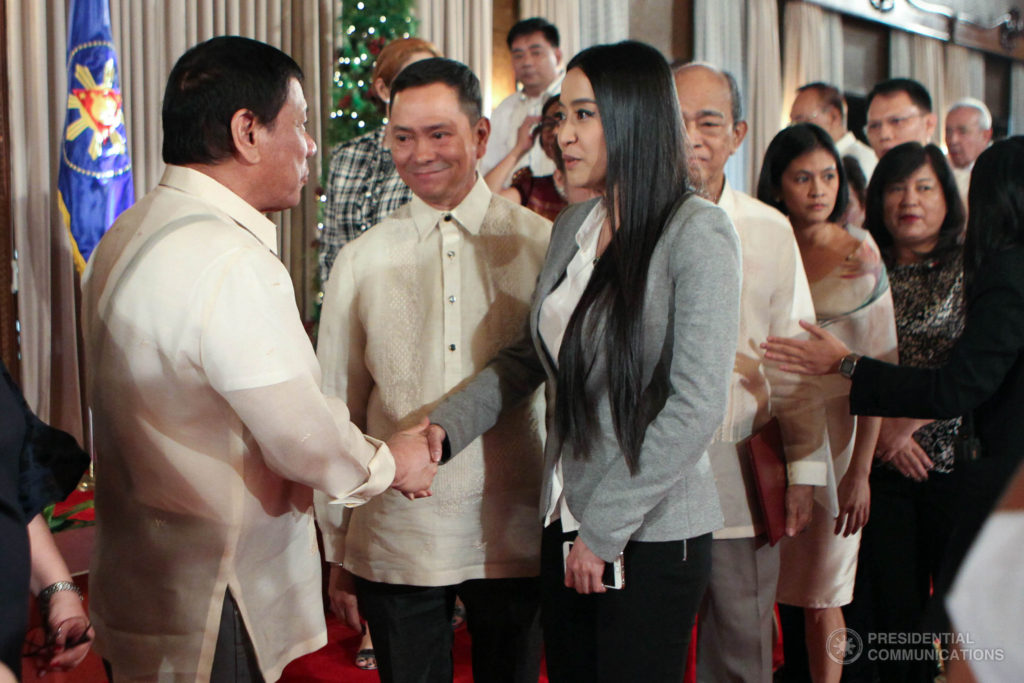 Uson claimed that her task in the PCOO was to: "bridge the communication gap between ordinary Filipinos and the government and combat fake news through social media." Which is why it is a travesty that she is allowed to continue serving in her capacity when what she is doing in different media platforms is spreading disinformation instead.
Is it wise to have your state communication agency be run by someone who has no regard for the accuracy of the information she spreads? Misinformation, or unintentionally transmitting wrong information is one thing, but Uson's modus deals with disinformation itself – the purposeful dissemination of hoaxes and propaganda in order to achieve political gain.
It is high time to #FireMocha.