All candidates say they're going to do something about poverty, I don't doubt the sincerity of their words. But do they really know how it is to be poor? Do they really know how it is to be hungry, really hungry? I do. Do they know how to throw a fishing net, how to fish from a boat through the long night? I do. The farmer who follows the carabao, what he thinks and what he feels, is something I know very well.

Former Senator Ramon Mitra, Jr.
Those words from the late Ramon Mitra, Jr. embodies what being a representative of the Filipino people truly entails. A genuine understanding of the plight of the most vulnerable; for being able to say you have walked in the same shoes as a destitute fisherman is a credential in itself.
Nowadays, prospective politicos are content with repeating platitudes or plastering a world record number of campaign posters to reach out to voters. Their utmost qualification is either appearing in famous films or being born to a prominent family with name recognition, when generations previously only the most tenured diplomat or the most seasoned lawyer would ever stand a chance at winning public office.
As the voting public became less wary about the competence of their potential government officials, many incapable individuals got elected. We once had the most astute intellectuals in office, today we see thespians, washed-up athletes and the progeny of elite scions in all branches of government.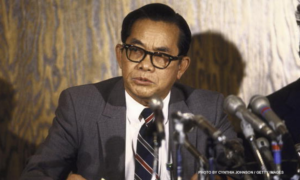 There is perhaps no clearer arena where we can find evidence of this than in the Philippine Senate. The Upper House was once the platform for which the likes of Sen. Mitra, Leticia Ramos-Shahani or Jovito Salonga would make awe-inspiring privilege speeches. Today, we see Sen. Miguel Zubiri challenging Sen. Antonio Trillanes IV to a fistfight; or to hear of Sen. Manny Pacquiao (a title still misplaced on him) invoking the Old Testament as a rationale to reinstate capital punishment.
Gone are the days when we could expect the brilliance of Senator Ramos-Shahani to be recognized throughout the world that she would be appointed Assistant Secretary-General of the United Nations. She would be one of the first co-authors of the UN Convention on the Elimination of All Forms of Discrimination Against Women (CEDAW) in 1979, before serving as UN Assist. Sec.-Gen. for various roles between 1980-86.
Will the Senate ever host another fierce fighter against imperialism and foreign intervention of our affairs as Sen. Lorenzo Tañada, who authored various literature on Philippine sovereignty and was a key driver in his capacity as Senator to rid of the U.S. Military bases parked in our shores? Today, we see no less than our head-of-state acting as an apologist for a foreign power to usurp our maritime domain.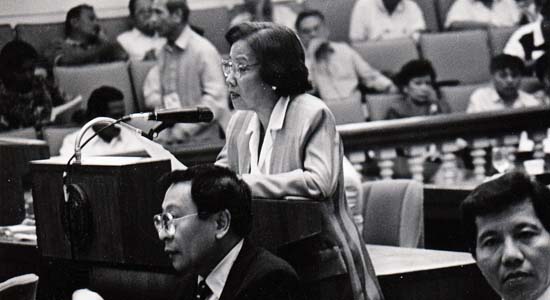 The level of intellectual discourse in the Philippine Senate is potentially going to take another blow in 2019, as professional dancer and callous social media commentator Mocha Uson announced her intention to run as a Senator in the next mid-term election. Given her name recognition she is very likely to bolster the cerebral firepower already provided by the likes of Manny Pacquiao, Nancy Binay and Tito Sotto in the ironically called "Upper House".
That prospective line-up makes me wonder what pieces of legislation we can expect from the Senate in 2020. Will we see a new iteration of a ban on "extra rice"? How about the return of the death penalty but with inspiration from Biblical methods such as crucifixion or being fed to a den of lions?
The possibilities makes one anxiously wait akin to anticipating the next episode of a television series, because in all honesty given that description the line between fiction and Philippine politics is blurry at best.
When once we could ascertain that the most talented minds were in public office, today we almost expect the outrageous to come from our government. Yet to be fair, their mandate comes from the voting public themselves. Perhaps the decline in the intellectual capability of our Senate is merely a reflection of the intellectual decline of the Filipino population in general.