In 2018, Florida businesswoman Melissa Howard was looking at a bright career in public service. She was running in the United States Republican Party primary to contest the District 73 seat in the Florida House of Representatives and looked to be a favourite.
But the attractive, well-spoken aspiring politician would see her momentum be derailed by a startling revelation: she lied about earning a degree at Miami University. Howard claimed to have a bachelor's degree, but although she was enrolled did not actually complete the program.
Within a week, Howard dropped out of the race and fell from grace with her Republican Party who once regarded her as a bright prospect. Even worse, her party sought to file charges against her for forging a college degree – a misdemeanour under Florida law.
Florida Republican Party official Joe Gruters gave this advice with regards to Howard's controversy: "Make sure you're only representing what's factual, because otherwise [it] will eventually catch up with you."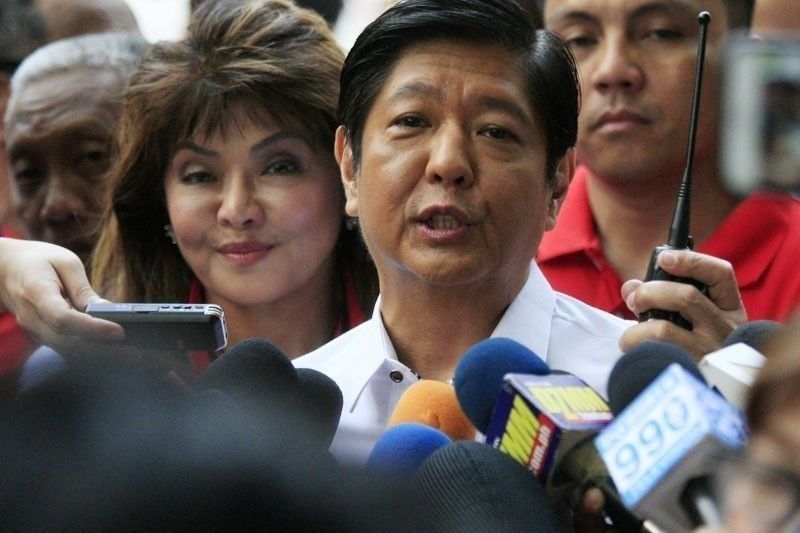 Gruters' counsel would serve the Marcos family well, considering two of its most prominent members have been embroiled in similar scandals. The late dictator's two offsprings Imee, a sitting Senator, and Ferdinand Jr. (or "Bongbong") – the dictator's namesake and only son – have both been caught lying about their respective educational background.
Bongbong's credentials had been in question as early as 2015 when he erroneously claimed to have a bachelor's degree from Oxford University. This was later refuted by the esteemed academic institution, who stated Marcos only got a "special diploma in social studies" rather than a formal degree.
Furthermore, the University also stated that "a Ferdinand Marcos matriculated at the University of Oxford in 1975 to read for a BA in Philosophy, Philosophy and Economics" but that he "did not complete his degree" program.
This means that while Bongbong did enrol for a bachelor's degree at the said university, he did not graduate and therefore does not hold a degree as he claimed. However, Marcos was awarded a "special diploma" in 1978.
An investigation by online news outfit Rappler, founded by Nobel Prize-winning journalist Maria Ressa, enquired with a contemporary of Bongbong's at Oxford on what a special diploma is. Their response: "My understanding is that the special diploma was something given to students on the rare occasion that they failed their first-year preliminary examinations and hence disqualified themselves from going on to receive a Bachelor's degree."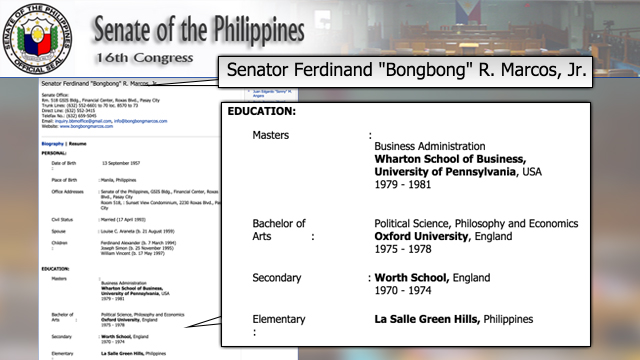 Not only did Marcos Jr. not obtain a bachelor's degree as he claimed, but he might have performed poorly in his studies too. Yet despite the overwhelming evidence against him, the dictator's namesake persists in claiming to be an Oxford degree holder.
Bongbong's chief-of-staff Atty. Victor Rodriguez responded to the allegations: "We stand by the Degree confirmation which was issued by the University of Oxford. It is up to anyone to question or challenge this with the said university if they so please."
But Oxford University has responded firmly to questions surrounding Bongbong's degree. A freedom of information act request from the institution gave this response: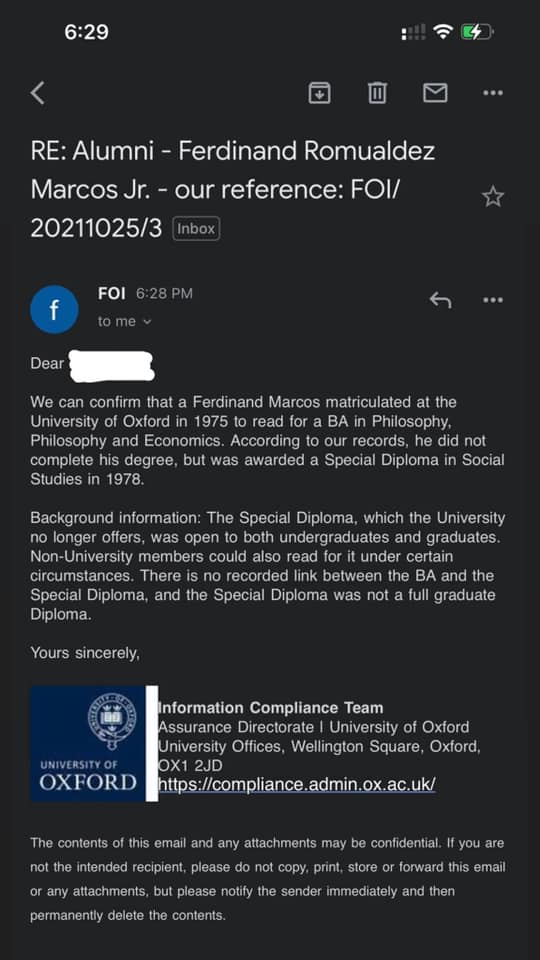 Such a decisive response should put to bed any questions about Bongbong's degree claims, but his campaign has been persistent in claiming otherwise. At the time of writing, Marcos Jr. is yet to apologise for making fictitious claims about his educational background.
But the dictator's namesake is not the only one in their clan caught fabricating his academic credentials. His sister, incumbent Senator Imee Marcos, made not just one, but two incorrect claims about her educational background.
During her Senatorial campaign in 2019, Imee claimed that she is "one of the first female graduates from an Ivy League School – Princeton University, graduating with honours". In reality, while she enrolled at the prestigious American university in 1973, there are no records of her ever graduating from the institution – according to The Daily Princetonian.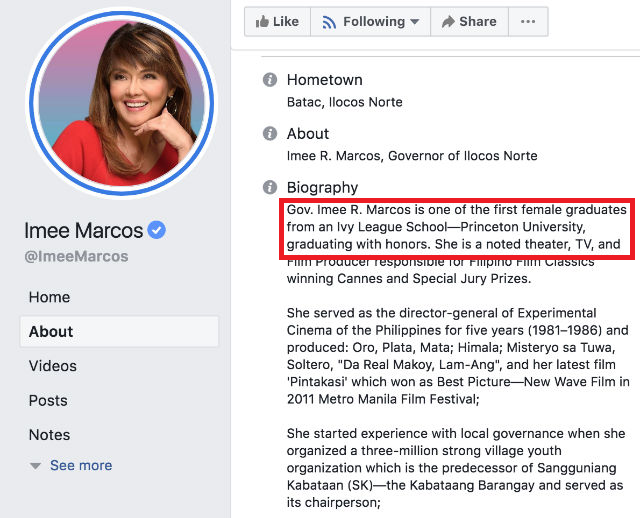 Deputy University Spokesperson Michael Hotchkiss confirmed Imee attended courses between 1973 and 1979, but that their "records do not show that Ms Marcos was awarded a degree". Even more damning, a 1983 article published on their university newspaper called, Town Topics, claimed that the dictator's daughter even "flunked out" of the university.
When she was questioned about this during a candidates' forum that year, Imee blatantly dodged the question – unable to give a categorical answer. It could have well been her attempt at damage control, deflecting the issue rather than being forced to admit that she lied.
But Princeton wasn't the only institution she claimed to have been an alumnus of. Imee also claimed to have graduated from the University of the Philippines (UP) with honours, but this is again not true.
UP executive vice president Teodoro Herbosa said Marcos only took courses but did not finish with a degree from the university, much less with honours. Very similar from her claims at Princeton, or her brother's claims to be a degree holder from Oxford.
Also similar to Imee's claims about Princeton is her academic performance at UP. Writing for the Cebu Daily News, journalist Madrileña de la Cerna – who is a contemporary of Imee's at the national university – wrote that "it was a public knowledge during my stay in the campus that Imee could not graduate because she lacked 35 units."
De la Cerna would continue to state that even Imee's admission to the university "was questionable because she did not finish her undergraduate studies at Princeton but was admitted just the same with intense pressure on the administration."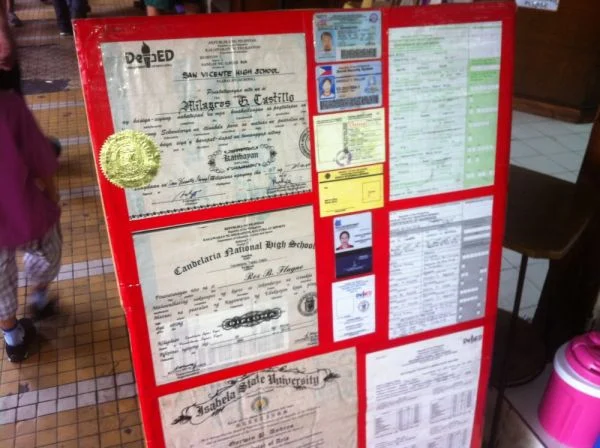 Not only did Imee Marcos falsely claim to have graduated (with honours) at both Princeton and UP, but it seems her admission to the latter institution was already inauthentic itself. Despite being an institution reserved for destitute but intelligent Filipino youth, the dictator's daughter was given entrance to the university.
After all, if the late dictator Ferdinand could strongarm himself into owning many Filipino-owned corporations, getting her daughter into the national university seems like a simple task.
But it seems that embellishing one's academic background is a common pastime among the Marcos clan. It's one thing for either Bongbong or Imee to have been caught lying about their credentials once, but when both of them are guilty of doing it and (in Imee's case) repeatedly as well, that indicates a habit.
If Bongbong and Imee can lie about their educational background, what else are they deceiving the public about? More importantly, what else are they able to lie to the Filipino people in the future?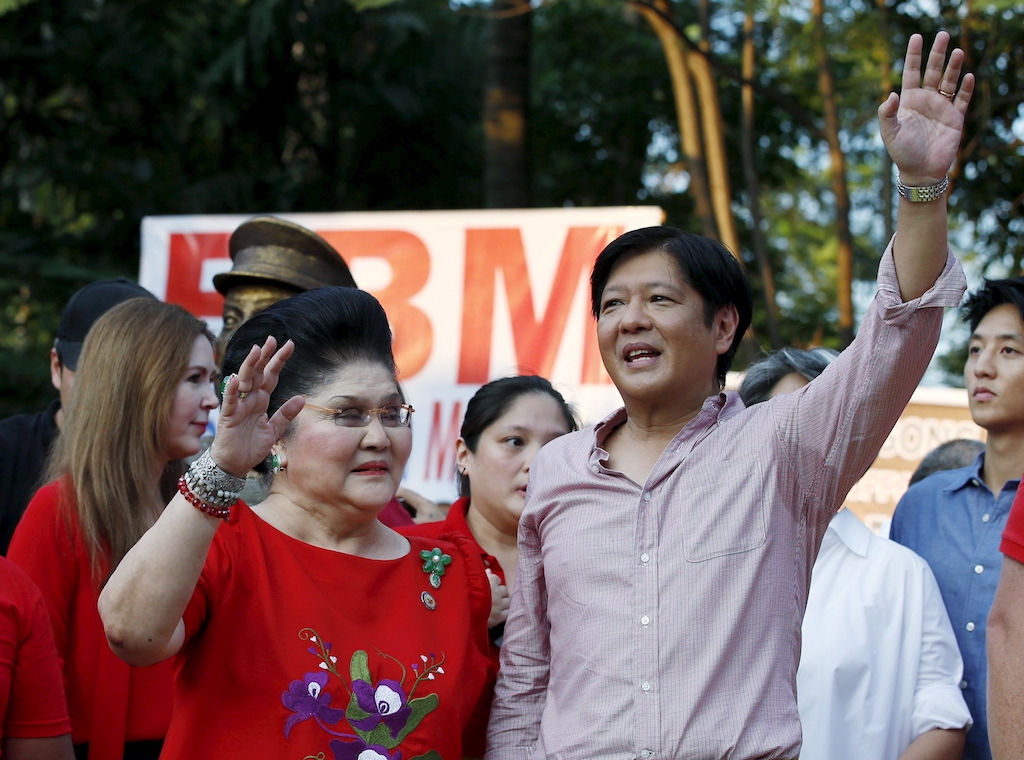 Marcos supporters can downplay these revelations as much as they want, but it is undeniable that these patterns of behaviour are very problematic. At the same time, allowing the Marcos siblings to get away with these fabricated claims are also unfair on everyday Filipinos.
If an ordinary Filipino lies about their resume when applying for work, they will not only be disqualified from the job but could even be blacklisted from ever applying again. Yet, the Marcos siblings have shown they habitually do it and many still consider them for the nation's highest offices.
Thus, as the nation considers Ferdinand "Bongbong" Marcos Jr. for the presidency in 2022 may they take a good, hard look not only at him but also in his background and past actions. Can the nation really fathom having a leader whose very credentials are already questionable?
How long will the Filipino people tolerate being lied to by the Marcos family?