One aspect of the Philippines' COVID-19 response is unique to the rest of the world: the mandatory use of face shields when outdoors.
The rest of the world only requires its citizens to wear facemasks, but the Duterte government has been adamant in requiring its citizens to wear face shields too, despite the efficacy of doing so questionable at best.
When even public health practitioners find it unnecessary, it is baffling why Filipinos are being made to spend extra on face shields also.
Normally, finding out the benefits of wearing both facemasks and face shields would be a scientific debate. But the explanation as to why the Duterte government has been insistent on face shields has been unravelled by a government audit instead.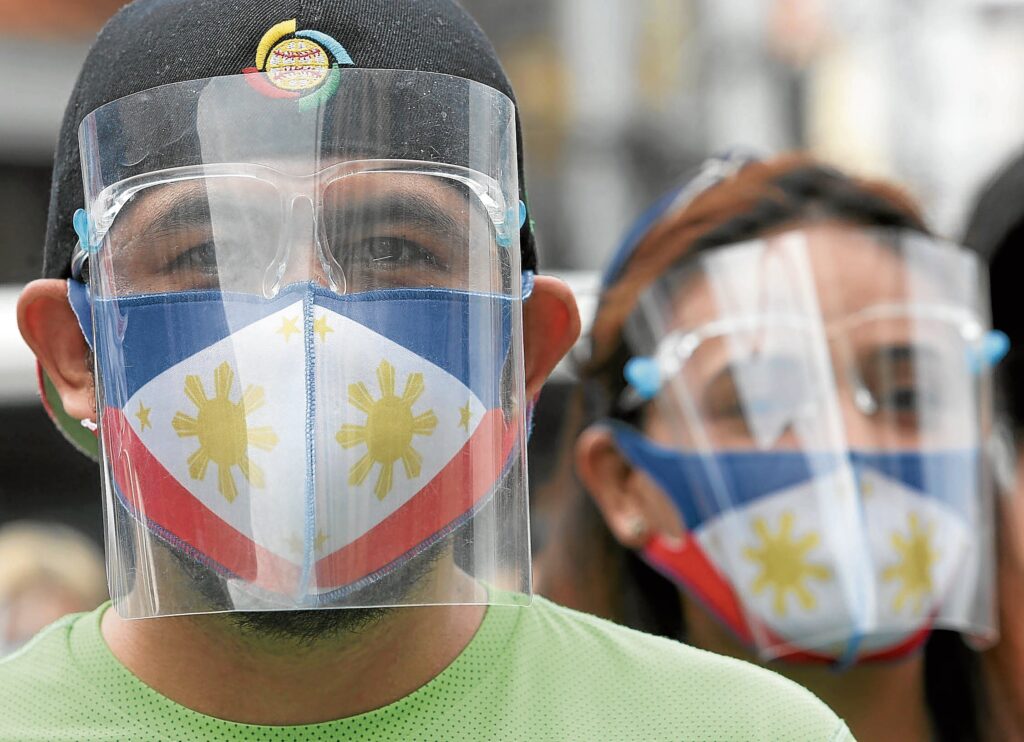 The Commission on Audit (COA) flagged the Department of Health (DOH) for its poor use of Php67 billion of COVID-19 funds. A large chunk – totalling Php42 billion – was transferred to the Procurement Service of the Department of Budget and Management (PS-DBM), without a signed memorandum of agreement (MOA).
Due to the lack of documentation, state auditors had flagged this funds transfer as unauthorised. Christopher Lao, the former undersecretary to the PS-DBM, insisted that there was "no need for an MOA" to transfer the funds as the items purchased were considered common supplies and equipment or CSEs.
The Budget Department's Procurement Service acts as a one-stop shop for different government agencies, managing large-scale procurement on their behalf as those agencies may not have the manpower or expertise to undertake such large transactions.
While using the PS-DBM is not illegal, there are limitations to its procurement functions: it may only purchase common supplies and equipment (CSEs) on behalf of the agencies.
Those funds were allotted to purchase personal protective equipment (PPE) sets needed by frontline health workers, these include facemasks and face shields. However, at the time of the DOH's purchase, face shields were not listed as CSEs.
Therefore, as Senator Ping Lacson noted, with or without an MOA the PS-DBM's purchase of face shields as part of the PPE sets was unauthorised. His fellow Senator Franklin Drilon also disagreed with Lao, stating that transferring the funds without an MOA violated the Procurement Law.
But notwithstanding the lack of authorisation to purchase those face shields, the facemasks and face shields purchased by the PS-DBM were also revealed to be grossly overpriced.
The Procurement Service purchased Php3.82 billion worth of PPE sets for the DOH, from a local firm called Pharmally Pharmaceutical Corporation. The PS-DBM bought facemasks at Php27 per piece when the going rate was only Php2 each; while face shields were bought at Php120 per piece when the Philippine Red Cross (PRC) purchased their own stock at just Php50 each.
Senator Risa Hontiveros already put Pharmally under the spotlight last year, unveiling that the government had been purchasing "overpriced" PPE sets from suppliers when many local firms sold PPE sets for only Php1,000 each – Pharmally's going rate was Php1,910.
Since the start of the pandemic, Pharmally Pharmaceutical has secured a grand total of Php8.68 billion worth of contracts from the government's COVID-19 response program – the biggest pandemic supplier by far.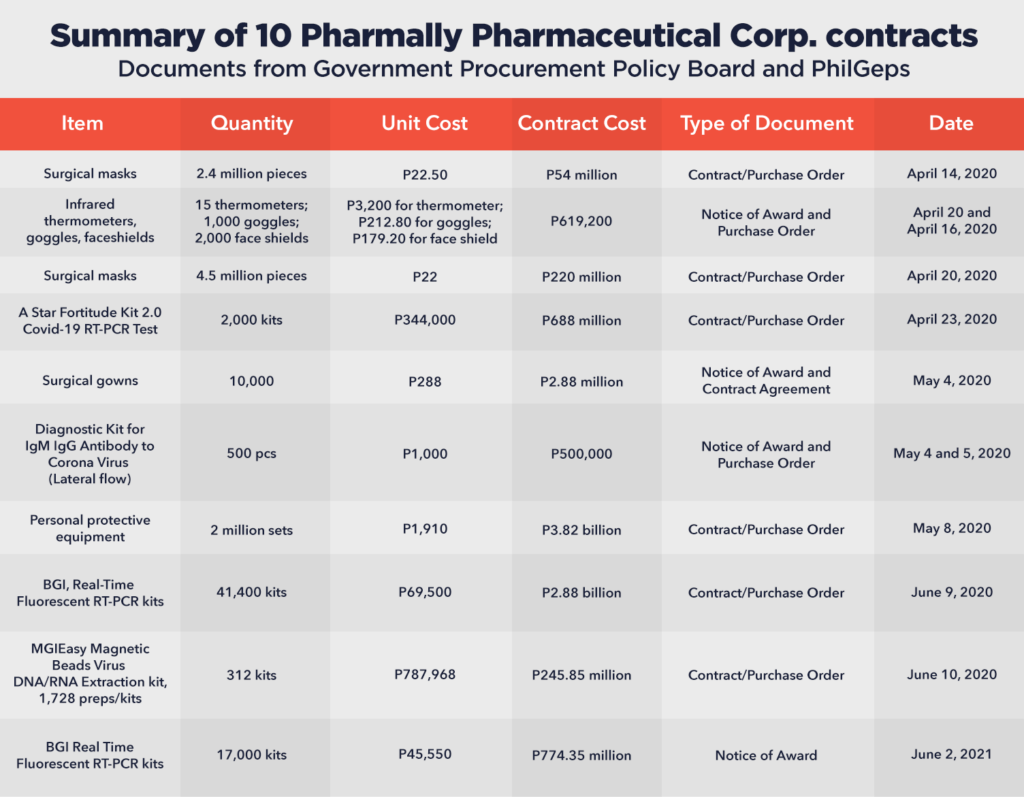 They secured contracts to supply not only PPE sets, but also COVID-19 testing kits, surgical masks, and thermometers to name a few. The second top supplier, XuZhou Construction Machinery Group, secured only P1.9 billion worth of contracts.
It does raise eyebrows when one supplier is clearly being favoured far more than its competitors, but what makes Pharmally Pharmaceutical's success even more intriguing is that it was only registered with the Securities and Exchange Corporation (SEC) in 2019 and with only Php625,000 capital.
How could a two-year old company, with less than a million pesos in start-up capital, be awarded a gargantuan contract worth more than Php8 billion?
It has also been revealed that some of Pharmally Pharmaceutical's top officials are wanted in Taiwan for a range of financial crimes. This includes Huang Tzu Yen, a Singaporean national who is the firm's majority owner and who registered Pharmally with the SEC in 2019.
Huang is wanted for stock manipulation. His father, Huang Wen-Lai, who is chairman of Pharmally International Holding Company, is also wanted for securities fraud, embezzlement, and stock manipulation.
The older Huang was present at a meeting with President Rodrigo Duterte himself in Davao City in 2017. Video footage from that meeting is still available on Youtube and can be seen below:
It is also curious to note that present in that meeting was Michael Yang, a Chinese national who courted controversy for being named as a Presidential Economic Advisor to President Duterte.
Yang has been outed as having links with Pharmally Pharmaceutical top executives: an investigative report by Rappler found out that Huang is also a director in a different firm, Pharmally Biological Company Inc. His co-directors in this firm are close associates of Yang – they sit as incorporators in several companies led by Yang himself.
Pharmally Biological's SEC records show that Huang is president and an incorporator, along with two Filipinos – a certain Rose Nono Lin and Gerald Cruz. The two Filipinos are also involved in at least one other company of Yang.
And Yang's links with Pharmally is also difficult to deny with the video footage of the meeting between President Duterte and Pharmally International Holding, with Yang himself present.
Although there's no evidence to prove collusion, it certainly raises eyebrows when a company linked to a close confidante of the President is achieving outstanding success in bagging handsome contracts from the government.
Unravelling the true motives of requiring Filipinos to wear face shields – in addition to facemasks – outdoors during the pandemic leads us into a rabbit hole of irregularities and potential conflicts of interest in the government's COVID-19 response.
Investigations are still ongoing to uncover the true culprits, but the corruption is undeniable. Filipinos are being made to bear the burden and added cost of securing face shields, simply to milk money out of them to benefit a few.
The foul stench of corruption in this debacle can not be offset by any face shield.