Every 10 December the world commemorates Human Rights Day, a day celebrating the proclamation of Universal Declaration of Human Rights.
In that same vein, the global community also raises awareness of the human rights challenges that people around the world continue to face today.
By convention, national governments around the world make statements in support of human rights and state their commitment to upholding these rights.
In the Philippines, the Duterte regime observed Human Rights Day by committing an egregious violation of human rights instead.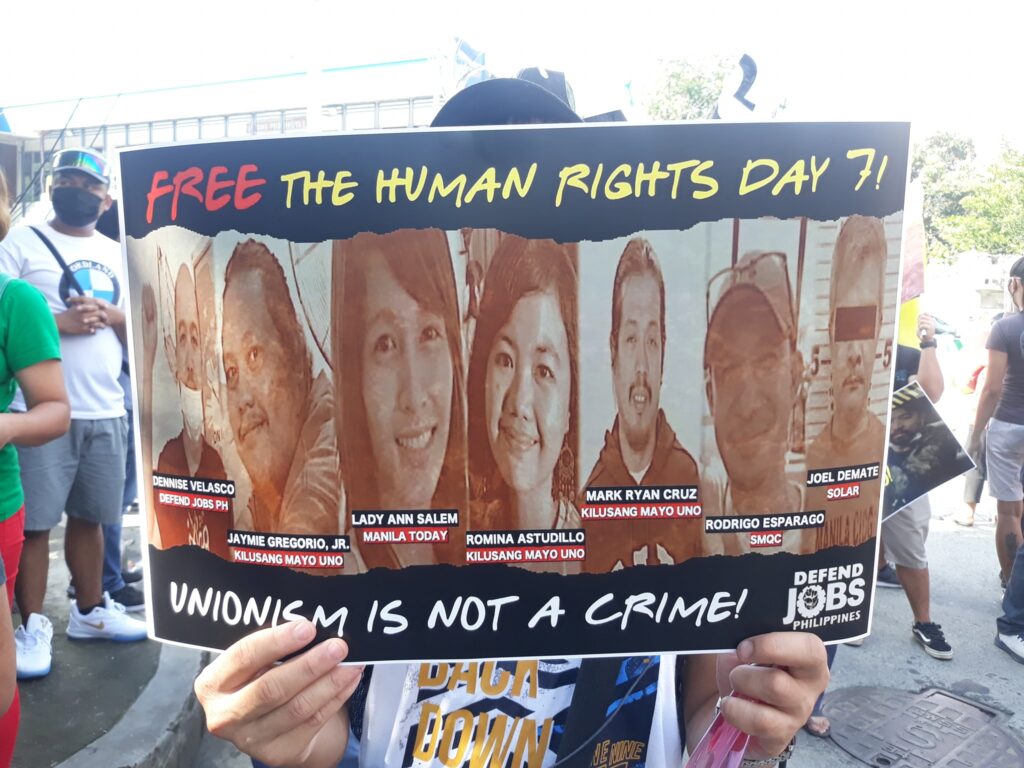 On the morning of December 10, six trade unionists and one journalist were rounded up by police. Acting on a search warrant, law enforcers raided their respective houses and allegedly found firearms and explosives in their possession.
Why trade unionists or a journalist would have possession of such weapons is highly questionable, but it plays into the narrative of the Duterte government that leftist activists are clandestinely aiding the communist rebel group, New People's Army (NPA).
One of the 7 arrested, journalist Lady Ann "Icy" Salem, works for the Altermidya Network – a coalition of independent media outfits which are often scathing of the Duterte regime.
The network has been constantly red-tagged or accused of being sympathetic to the underground communist rebellion, which often becomes the case when an individual or group continuously criticize the current government.
Earlier this month, during a Senate hearing on the issue of red-tagging the National Task Force to End the Local Communist Insurgency (NTF-ELCAC) accused the Altermidya Network of being a "front" for the NPA.
It should come as no surprise then that Icy, an editor for Manila Today (a member organisation of Altermidya), was targeted for her hard-hitting reporting on the corruption and injustices being perpetrated by the Duterte regime.
She was arrested on the same day as six trade unionists: Dennise Velasco, Mark Ryan Cruz, Romina Astudillo, Jaymie Gregorio Jr., Rodrigo Esparago, and Joel Demate.
The arresting police agents claimed to have found several hand grenades, pistols, revolvers, and even M-16 rifles in their respective residences.
Given that these labour organizers reside in condominiums it baffles the mind how they were able to smuggle such contraband into their residences in the first place.
The cache of weapons allegedly found in their possession was enough to fight a war, which could be evidence of their involvement in the communist insurgency.
But the NPA maintain their presence in the hinterlands of the country, these trade unionists live and work in the densely-populated urban area of Metropolitan Manila, how could they have possibly waged a war against state forces from their homes?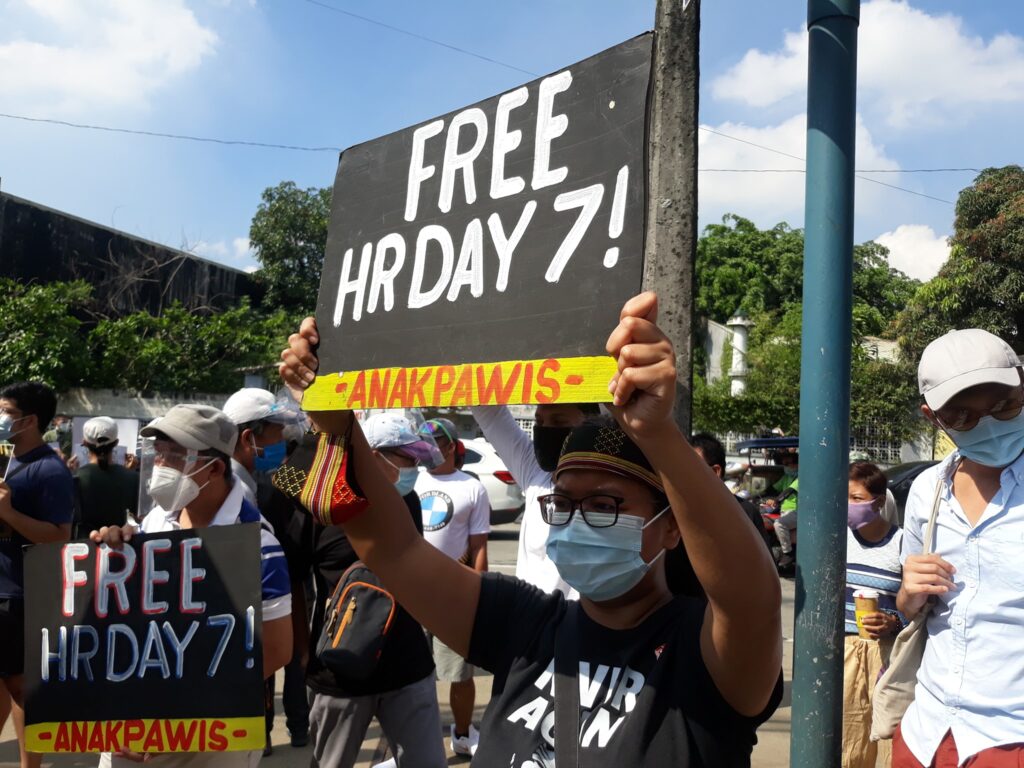 Much like Icy Salem, those six trade unionists also have a streak of speaking out against the policies of the Duterte administration.
Three of them were members of Kilusang Mayo Uno (KMU) – a militant labour rights group which President Rodrigo Duterte himself labelled as a communist organisation.
This mass organisation has been vocal about overturning the practice of contractualization in the Philippines and have hit out at the Duterte regime for breaking their promise of abolishing it.
Another arrested trade unionist, Denisse Velasco, is a member of Defend Jobs Philippines which is a non-profit organization committed to advance and promote the rights and welfare of Filipino workers.
Velasco has organised workers to speak out against unlawful labour practices committed by giant corporations such as Jollibee Foods Corp., Regent Foods Corporation, Pepsi, and the telecommunication giant PLDT.
For standing up for marginalised workers and for holding the government to account for their promises, Velasco saw his residence raided by police during the wee hours of Human Rights Day.
It is becoming apparent that the true motivation for arresting the Human Rights Day 7 is retaliation for their criticism of the Duterte regime.
The Criminal Investigation and Detection Group (CIDG), the police unit that carried out the arrests, claimed they were undertaking a drive against illegal firearms but it's clear that it was a crackdown on dissent.
For the Duterte regime to coincide these arrests on Human Rights Day – an occasion where the world celebrates human rights and commit to upholding them – demonstrates their flippant attitude towards these basic rights.
Thus, President Duterte's official message on Human Rights Day – in which he emphasized his government's commitment to human rights – is laughable and is a ploy to prevent condemnation from the international community.
There is a human rights emergency in the Philippines and the global fraternity needs to be aware.