On the 1st of April, dozens of residents from Sitio San Roque in Quezon City staged a demonstration asking for food assistance from their local government.
The Enhanced Community Quarantine (ECQ), imposed to curb the spread of COVID-19, has decimated their livelihoods. Under these strict measures, residents are not allowed to leave their homes unless for essential purposes like going to work, buying medicines, or going to the supermarket for food supplies.
Workers are still able to go to their workplace provided they carry a quarantine pass with them. However, this leaves so-called "informal sector" workers in a conundrum – these are people who make their living as sidewalk vendors, running small food-stalls, or driving customers around in traysikads and tricycles.
These workers obviously cannot work from home and do not have indoor offices either to report to. Instead, their means of survival relies solely on their ability to be outdoors and physically encounter as many people as possible – entirely counterproductive to the goals of a community quarantine.
Their best recourse was to rely on relief packs provided by their local government officials containing food parcels to help them get through the quarantine period. This public service is crucial for the survival of these informal sector workers, who are among the most impoverished in society.
Regrettably, the distribution of these relief packs have been tainted with the typical politicking and cronyism that is expected in Philippine politics. Senator Bong Go has been exposed to have been advertising his name on the relief goods he distributes, and there have been other instances of politicking recorded in the distribution of these taxpayer-funded humanitarian assistance.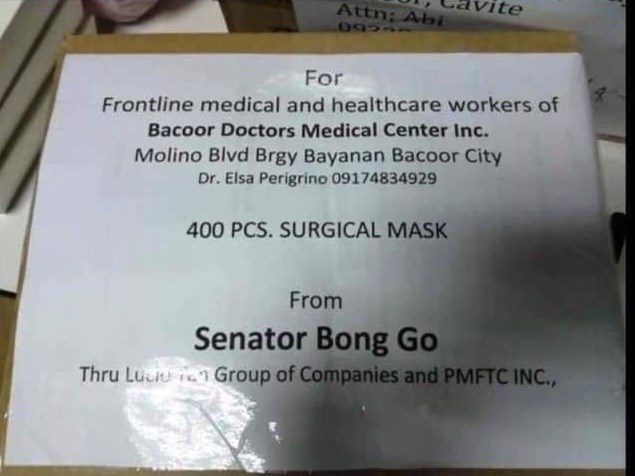 Quezon City, the largest city in Metropolitan Manila, is no different. The distribution of relief goods from their local government unit has been marred by delays and allegations of politicking.
These frustrations are what drove dozens of Quezon City residents, in Sitio San Roque, to stage a demonstration calling for food assistance. Joy Belmonte, the city mayor, promised to deliver 400,000 food packs per week to her poorest constituents but there have been major delays in its delivery.
These disruptions have driven many indigent residents to hunger, their desperation grows the longer the ECQ is in place. Instead of listening to their pleas, members of the Philippine National Police (PNP) violently dispersed them; many of the protesters were pushed down, dragged through concrete, and verbally abused by the responding police.
The response was an overkill. Those protesters conducted themselves in an orderly and peaceful manner, armed only with placards and a megaphone. Their demands were simple and far: to be given the necessary supplies for their sustenance, but the police dealt with them as though they were in combat.
Twenty-one protesters were arrested by the PNP for staging a protest without a government permit, they also face further charges for breaking ECQ restrictions. While most Filipinos were aghast at the treatment these protesters were subjected to by police, there was also vocal number who said they received their comeuppance for breaking quarantine rules.
Lockdown measures are necessary to curb the spread of COVID-19. As there is no vaccine developed for this new strain of coronavirus, limiting exposure is the next best option to prevent the number of infections spiraling out of control.
Ever since community transmission of the virus began in the country, Filipinos have been urged to stay at home and to practice "social distancing". Hence, when some Filipinos see large groups of people still going outdoors and being close to one another they become irate and ignorantly berate these individuals.
However, for many – including informal sector workers previously mentioned – staying at home is not possible. For them, observing the strict self-isolation measures many desire will not provide them with the sustenance they need survive.
If their livelihoods are forced to stop, where will they obtain money to pay for basic utilities such as power and water? Many of those who belong to the urban poor also do not own their own homes, hence paying rent is still a worry for them under quarantine.
Though the ECQ may still allow people to visit supermarkets and pharmacies, this would be useless without cash to spend. Failing to earn a livelihood will also render them unable to afford even basic food and medical supplies.
This is the reality of life for the destitute. Naturally, if you do not belong to this social group you would be oblivious to their plight. This is precisely why so many have been quick to judge the poor for not obeying social distancing restrictions.
This is why many are quick to lay blame on the protesters in San Roque: because they are blind to material hardships of the have-nots. Take for example socialite Cat Arambulo's foul-mouthed rant against people commuting while under ECQ, it never occurred to her why those people are commuting in the first place.
For a community quarantine to be successful, the powers-that-be have to provide the basic necessities human beings need to survive. We have to be mindful that although COVID-19 can take away lives, so too can hunger and thirst.
The administration of President Rodrigo Duterte has applied the same approach to tackle the drug trade to also enforce COVID-19 quarantine — using security forces to sow fear into the people. However, no security measure can overrule our primal instinct to fight for survival.
If the food packs promised to them do not arrive for days, they have no choice but to find food themselves. If the government will not pay for their bills, these people will go out and find money themselves.
To punish them for doing that is to penalize them for realising human nature. It is immoral and wrong. The fault should lie with elected public officials for failing in their mandate to tend to the well-being of their constituents, not with poor Filipinos trying to survive.
Until the powers-that-be realise this, they will always see members of the public breaking quarantine measures. Hence, rather than heightening security measures the government should instead look to step up their humanitarian efforts instead.