President Duterte's dictatorial ambitions were finally realized on Friday, the 11th of May, after his allies successfully ousted the Chief Justice of the Supreme Court – Maria Lourdes Sereno – who dared criticize his infamous crackdown on illegal drugs.
The outcome means that the President, aside from having control of the executive branch, now has influence over the judiciary in addition to his control of the legislative branch – where his allies compose majorities in both Houses. Despite vehemently denying that he had any motivations to remove the Chief Justice – an appointee of his predecessor, and recognized arch-nemesis Pres. Benigno Aquino III – it was ultimately Duterte's staunch supporters who played prominent roles in Sereno's ouster.
It was lawyer Lorenzo "Larry" Gadon, a member of a pro-Duterte group and former legal counsel to former President Gloria Arroyo (also a Duterte ally), who filed an impeachment complaint against Sereno in August 2017 with the House of Representatives.
Though his was not the first such complaint filed versus the former Chief Justice, it was Gadon's version that was ultimately heard by the House justice committee and was endorsed by thirty lawmakers.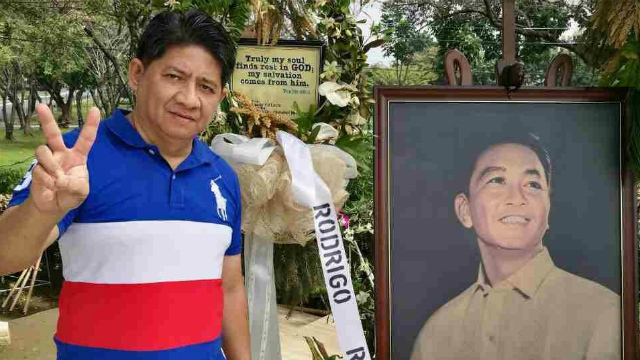 Part of his credentials is that he is president of the Pro-Duterte Constitutional Reformers to Federalism (PDu30-CORE to Federalism), which describes itself as a "group of Filipinos worldwide who supported President Rodrigo Roa Duterte in the last elections and others who are pushing for Federalism in answer to the call for change in the Philippines".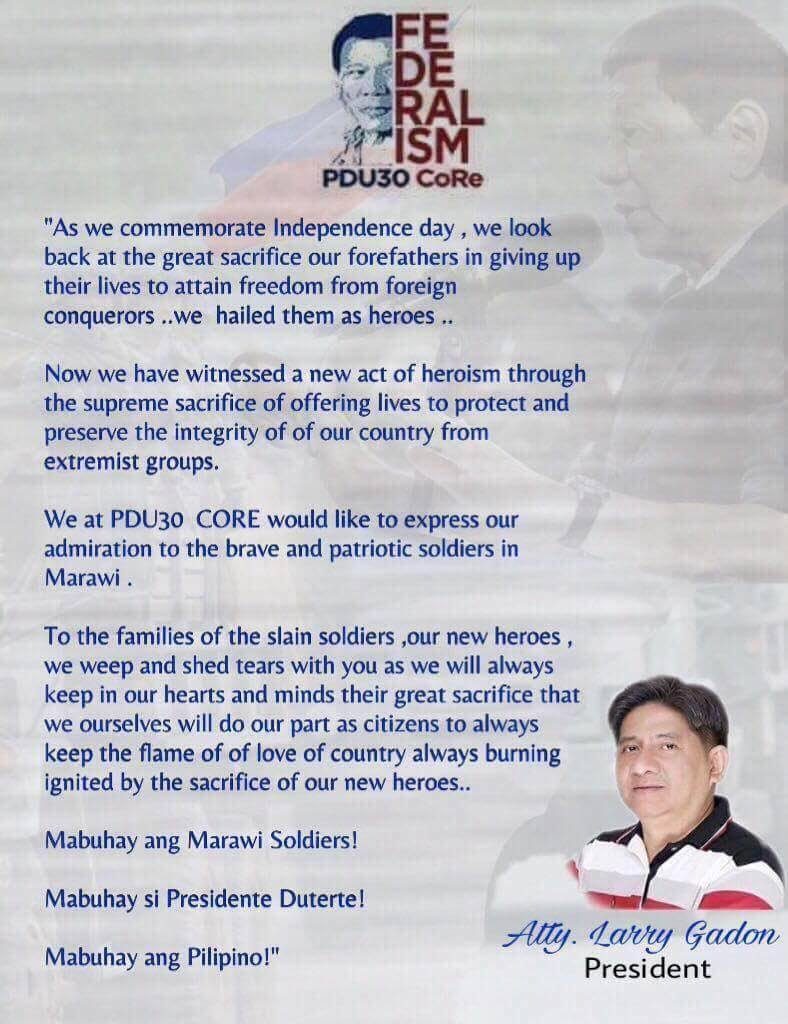 Shifting the country to a federal form of government is one of the signature campaigns of the Duterte administration, and has been thoroughly pushed by his supporters as well.
Aside from PDu30-CORE to Federalism, Gadon can also be seen attending numerous events that have a pro-Duterte message, or have been attended by other known Duterte supporters in photos posted on his Facebook page. Such groups include one called "The General Assembly of Republic Defenders" and another called "Pilipinas Tindig", where their tarpaulin banner is advertising multiple pro-Duterte organizations.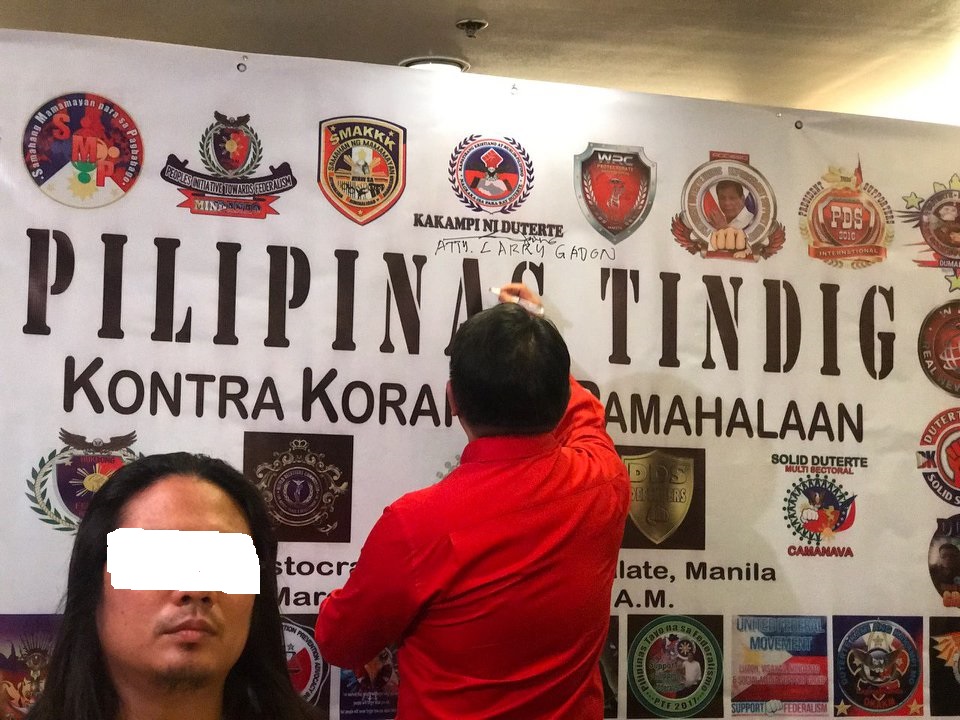 However, Gadon's rise to prominence came before his filing of the Sereno impeachment complaint. In 2016, while running as a Senatorial candidate under Marcos' former political party – Kilusang Bagong Lipunan (KBL) – the lawyer publicly stated his intention to genocide the Muslim population of the Philippines.
(The video of Gadon's outburst can be seen below, but without English subtitles)
When asked in a televised interview what his solution was to the decades-long conflict in the Mindanao region, Gadon said that he is open to personally talk to the Moro Islamic Liberation Front (MILF) but if it still cannot be resolved he would resort to violent means:
I will kneel before the Moro Islamic Liberation Front to beg them not to launch attacks, I will cry stones and blood, and on the 11th time and they still refuse, I will attack them and bring the entire Philippine army there and kill them all. I will burn their houses and eradicate their race, even if my soul burns in hell later.
The visibly shocked interviewer even asked Gadon, "even the children?", to which the latter replied: "all of them".
There were numerous calls for Gadon to drop-out of the Senatorial race because of his blatant racism and deranged behaviour, while lawyers also filed complaints against him to be disbarred. Rather than apologize for his remarks, the lawyer stood defiant of his words and had the audacity to label himself a "friend of the Muslims".
Another group which staunchly backed the ouster of Sereno was the Volunteers Against Crime and Corruption (VACC), a self-proclaimed independent group but whose activities strongly indicate a pro-Duterte leaning. The group is behind the filing of complaints against political rivals of President Duterte, such as Senator Antonio Trillanes IV and former President Noynoy Aquino.
According to the group's website, they are "a non-stock, non-profit non-government organization (NGO) which envisions a relatively crime-free and corruption-free Philippines". Their board of trustees include businessmen, struggling actors and musicians – many of whom have accepted full-time positions in the Duterte administration like the Solicitor-General himself, Jose Calida, who filed the petition for quo warranto which successfully ousted Chief Justice Sereno.
Part their ranks is "celebrity lawyer" Ferdinand "Ferdie" Topacio, who staunchly supported the quo warranto petition. He is dubbed a "celebrity lawyer" due to his history of handling high-profile cases involving pop culture personalities such as film and TV stars.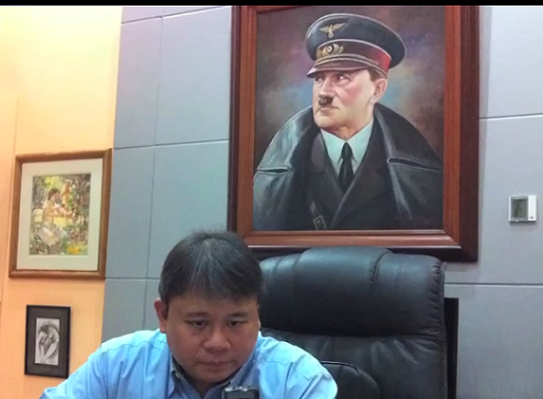 Aside from representing famous clients, Topacio himself has his own claim to fame: he is a vocal fanatic of former German leader Adolf Hitler. While most historians and academics would consider the latter as a nefarious war criminal and racial supremacist, the Filipino lawyer instead calls Hitler a "revolutionary" and claimed that his "single-minded vision for the benefit for all members of society" was worth emulating.
In his own law office, he has a large portrait of the Nazi icon which he is not ashamed to display. On many occasions, Topacio has defended Hitler and claimed that the latter's "main crime was that he lost the war", since "the history books are written by the victors".
Adding to this, the VACC-affiliated lawyer also believes that Hitler was not to blame for the Holocaust: "there was no official state policy by Germany under the National Socialist regime that ordered the killing of Jews, only the exile or segregation of the Jews".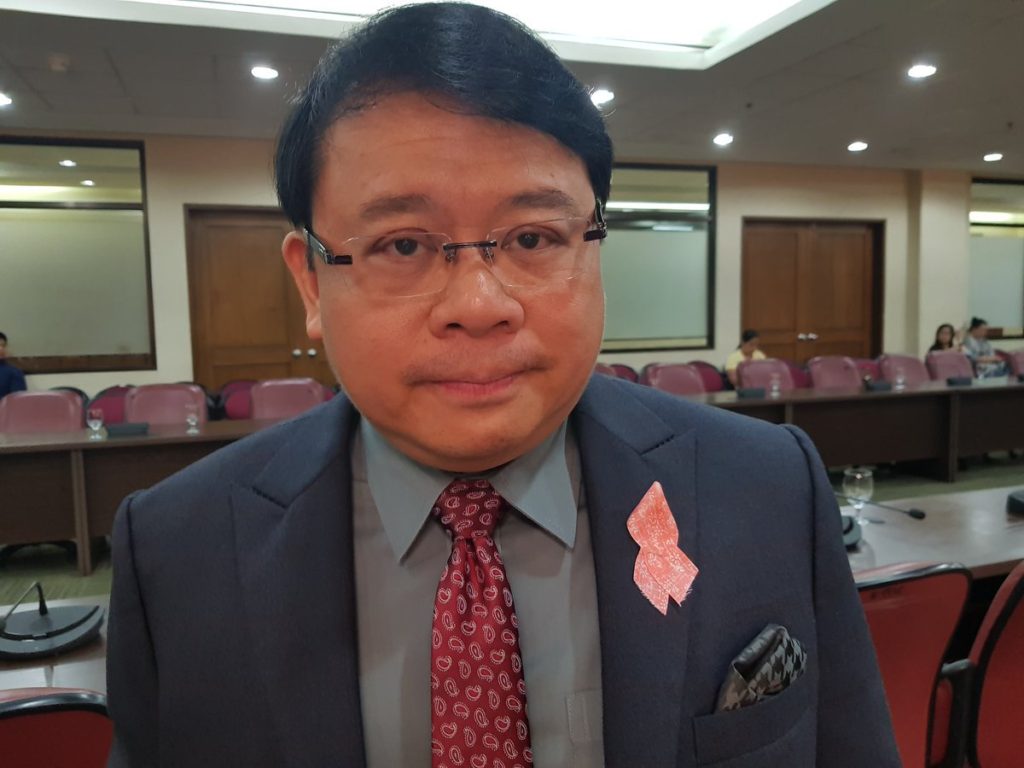 In over 16 European countries, "Holocaust denial" (or the denial of the systematic genocidal killing of 6 million Jews and people of various ethnic groups in Europe by Nazi Germany in the 1930s and 1940s) is a crime and may result in imprisonment.
Aside from being an insensitive act, rejecting the well-documented historical narrative of the systemic genocide of European Jews is ignorant and allows war criminals such as Hitler and Joseph Goebbels to be sanitized from the crimes against humanity which they committed. It is also completely unbecoming of a lawyer to indulge in such exercise of stupidity, which begs to question the legitimacy of Topacio's status as a prominent criminal lawyer.

Yet Topacio's display of ignorance and arrogance does not end there. In 2012, he infamously sent out a homophobic tweet against then-Communications undersecretary Manolo Quezon III after coming to blows with the latter on Twitter.
He was rightly called out as a "bigot" by then Presidential Spokesperson Edwin Lacierda, yet Topacio remained unapologetic for his blatantly hateful act. The latter disclosed that the trigger for his uncalled for tweet was Quezon's tweet branding him as "Hitler-loving", which based on the evidence mentioned previously is completely factual.
While Topacio may claim to be impartial and non-partisan himself, the evidence proves to the contrary. He was a staunch critic of the previous Aquino administration and has taken a lead role in ousting several Aquino-era appointees, such as Commission on Elections Chairman Andres Bautista.
Topacio filed an impeachment complaint against Bautista, for alleged ill-gotten wealth he amassed during his term as election commissioner. While the complain failed to get any traction in Congress, the pressure placed on the COMELEC chief by Topacio and the VACC was enough to force his resignation in October 2017.
Much like Sereno's removal from her powerful office, the vacancy which Aquino-allied Bautista left meant that President Duterte was free to appoint his own ally into that position. As explained in a previous article, the removal of Sereno gave Duterte influence over all three branches of government: the executive, the legislative and the judiciary.
Topacio handed Duterte an added bonus, control over the elections commission, as a result of his efforts. Alongside Larry Gadon, he helped ensure Duterte's full rise to power.
If they were virtuous men, one would find solace in the victories they snagged in the name of the incumbent President. However, with one being an admirer of a former Philippine dictator and an advocate for genocide against Muslims, and the other being an admirer of a notorious war criminal and a homophobe, it is definitely doubtful to think these two men have the best interests of the nation at heart.