State-funded Radio New Zealand (RNZ) recently published an article by journalist Susan Strongman that criticized the Coalition Government for refusing to rule out funding for non-profit pregnancy counselling services. The writer labelled these groups as "anti-abortion", and lashed out at their activity of talking women out of abortions and providing needed support to them instead.
The groups mentioned, Pregnancy Counselling Services (PCS) and Crisis Pregnancy Support (CPS) are both non-profit, non-political entities that provides free counselling for expectant mothers. The stated aims of PCS include:
To help women make fully informed choices about their pregnancies.
To enable any woman distressed about a pregnancy, and those involved with her, to cope better with the pregnancy and the birth of her child.
To provide recovery counselling for women or men suffering distress after an abortion.
Meanwhile, Nelson-based CPS offers GP-centred medical services that includes pregnancy tests, midwives, doctors, childbirth education, while also providing practical help such as budgeting advice, provision of food parcels and providing financial help to expectant mothers. They also provide emotional support for post-abortion grief, and transport services to help mothers meet their medical appointments.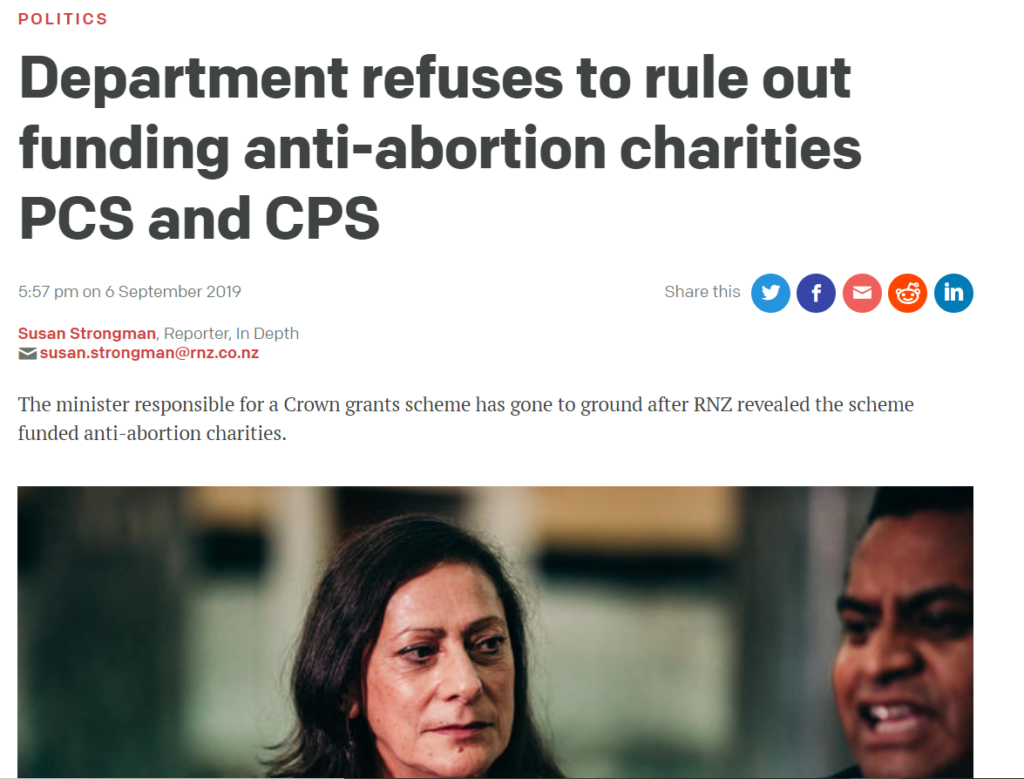 These are all much-appreciated services by women facing unplanned or unwanted pregnancies, and are of great help to their mental well-being also. These services do not outright prevent women from getting an abortion, but provide information on the full range of options that expectant mothers have – which, in today's culture – is often distorted to appear as though abortion is the only choice.
Strongman revealed that both PCS and CPS received a combined $335,000 of taxpayer funds in the last 15 years – the sum is already minuscule compared to the government support provided to other charities, but with the timeframe it was rolled-out under that amount translates to roughly $10,000 per year for each organization, a negligible amount.
Yet the author still portrayed this fact as a matter of concern, specifically targeting Labour MP and Minister for the Community and Voluntary Sector Poto Williams for refusing to rule-out providing more funds to these groups in the future. The latter's office has supervision over the Community Organisation Grants Scheme (COGS), which has a budget of $12.5 million, and is the source of the funding to the two pregnancy counselling services.
Strongman continuously labelled both organizations to be "anti-abortion charities", despite the stated aims of the group not dealing with discouraging abortions specifically but rather to help inform expectant mothers of their options.
While both organizations may have a clear pro-life slant, their services do not coerce women out of abortions. The woman's "choice" is ultimately respected, and the essence of the services provided by these groups focus on giving emotional, practical, and medical support to expectant mothers – rather than indiscriminately talking them out of abortions.
The RNZ journalist argued that CPS and PCS should not receive funding under COGS because the rules prohibit funding of groups "that promote political or religious activities", this is despite both pregnancy counselling organizations explicitly labeling themselves to be non-political and non-religious.
Ms. Strongman further rationalized that since pregnancy counselling services are already provided by district health boards (DHBs), it is redundant to provide funding to PCS and CPS also. What the journalist fails to factor in is that the range of services provided by those two organizations do not only focus on mental health counselling, but also practical and medical support also – they provide a one-stop shop for all necessary services that a worried expectant woman may need during their pregnancy.
By attacking the meagre government funding these organizations receive, Ms. Strongman demonise vital support services that would benefit pregnant women from all walks of life. Pro-choice crusaders would argue that the pro-life crowd are solely focused on being against abortion without providing assistance to pregnant women, and yet here are two pro-life non-profit organizations that provide a wide range of support services and still find themselves under attack by a clearly pro-choice journalist.
Rather than calling for the removal of government support for PCS and CPS, we should instead call for an increase in funding to help them with the vital work they do.