Disgraced former National Youth Commissioner Ronald Cardema had high hopes of becoming a congressman, even to a point where he attempted to manipulate election rules on the party-list system. But instead of taking oath in the House of Representatives (HoR), the ambitious leader of the Duterte Youth party-list might instead be looking forward to fighting hefty legal battles instead.
Cardema's long list of political blunders began when he tried to install himself as a member of Congress. During the 2019 mid-term elections, the Duterte Youth received enough number of votes to send one of their nominees to the HoR under the party-list system.
(READ: A backgrounder on Ronald Cardema)
Under election rules, a party-list must name five nominees and according to the proportion of garnered votes, those nominees – in order – will be elected as members of Congress. Ronald Cardema's name was not one of the five nominees of Duterte Youth, in fact, as he was still seated as an appointed government official being the National Youth Commissioner (NYC), he was not even eligible to be nominated in any party-list group.
However, after the final votes were tallied in the 2019 elections and it was clear the Duterte Youth received enough support to claim one seat in the HoR – all five named nominees withdrew their nominations, Cardema swiftly resigned from his NYC post, and thereafter put his name forward as a late substitution to be elected as a congressman.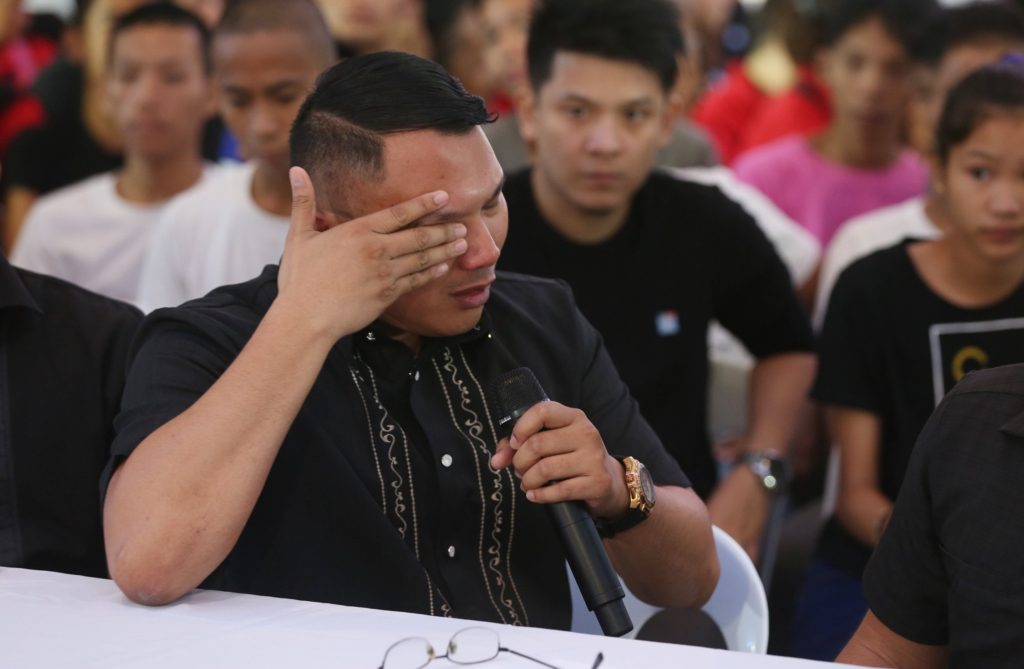 The official explanation by Cardema was that the five named nominees pulled out due to "cold feet", unwilling to participate in debates with supposed "leftists". But debating is the bread and butter of a legislator, why did those individuals agree to be nominees in the first place?
What made the substitution bid by Cardema more suspicious was that, just a few days after the final vote tally came out he changed his job description on his personal Facebook profile as "incoming Congressman" – despite his substitution bid not having been confirmed by the Commission on Elections (COMELEC).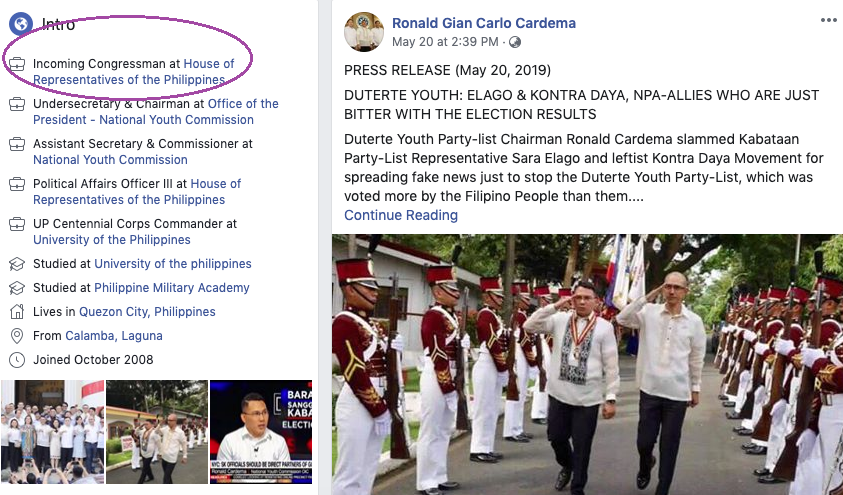 The aspiring congressman downplayed it by saying he was "simply excited" hence the prompt profile change, but it is clear that Cardema has strong ambitions to enter the HoR. Though the latter would quickly realise that his grand plot to maneuver his way into the Lower House of Congress would not go smoothly.
A tandem of youth sector organizations quickly protested the substitution bid of Cardema, pointing out that: a) his last minute substitution bid was dubious and "blatant mockery of the law ", and b) Cardema is actually unqualified to assume a seat under a youth sector party-list because he was over the age limit of what the law considers as "youth".
Under Section 9 of the Party-list System Act, any nominee for a youth party-list must at least be twenty-five (25) but not more than thirty (30) years of age on the day of the election. Ronald Cardema was 34 years old during the May 13 elections.
The COMELEC declared that Cardema's substitution bid happened a day before the elections, and therefore was filed on time. However, one commissioner of the electoral body – Rowena Guanzon – echoed the protests of the youth sector groups and called the stunt by the Duterte Youth leader "a mockery of democratic processes".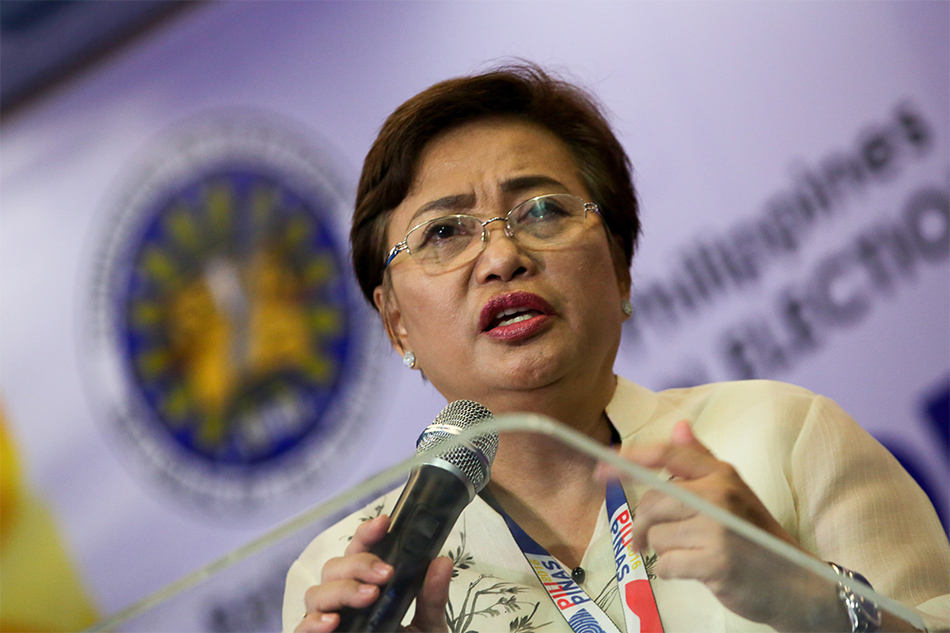 Guanzon called the last-minute substitution as "illegal" and "irregular", and said that Cardema could not be accepted as a substitute given his age. The Duterte Youth group attempted to circumvent the ruling and argued that they were not merely a youth sector group, but a party-list for "young professionals" also.
That excuse did not go well with Commissioner Guanzon either, who said that the Duterte Youth repeatedly called itself the "leading and most vocal youth group in the Philippines", and that in their application for accreditation, the group was granted registration as a sectoral party representing the Youth Sector – therefore, the requirements under Section 9 applied to them.
Therefore, earlier this month the COMELEC First Division moved to cancel the substitution bid of Cardema for the Duterte Youth party-list. In its decision, the First Division stated that "based on facts, law, and jurisprudence" he is ineligible to represent the party-list group.
— Emilio (@13thFool) August 5, 2019
As expected, Cardema refused to back down from his ambition of becoming a congressman and pursued numerous avenues to reverse the COMELEC decision. He turned his frustration at Commissioner Guanzon, accusing her of extorting money from him to allow his substitution bid.
Those allegations are definitely serious, and would have to be proven factual by Cardema or else face legal repercussions. In addition, Guanzon claimed to have received numerous threats on her life which she believed were spearheaded by the Duterte Youth leader's followers.
Not only has Cardema made a very powerful enemy, he has now dug himself into a deep hole which no one can help him climb out of – not even the President himself, who has vowed to keep out of the feud between the former NYC and Commissioner Guanzon. After being under attack, the latter is now the one hounding Cardema by telling him to "study [his] case, and get a good lawyer", signalling that she intends to challenge the embattled Duterte Youth leader before the courts.
Having primed himself as a staunch fanatic of President Rodrigo Duterte as leader of the infamous Duterte Youth movement, Cardema was gifted the role of NYC – seemingly as a reward. Did he also  expect to be gifted a seat as congressman even under dubious circumstances?
By pursuing his lofty ambitions, Cardema has suddenly found himself in a shallow grave – clinging on to his political life. Not only is it now unlikely that he will assume his seat as a member of Congress, the Duterte Youth leader could potentially land himself in jail for issuing such defamatory remarks.
And because of his blatant disrespect for the law, it seems no one sympathizes with him also.