New Zealand First's annual conventions are not only about members suggesting policy ideas to their MPs, but it also gives them an opportunity to know what their Party MPs have been doing in office.
Delegates present at the Convention hear from their MPs during the Caucus Report portion of the event, where all nine NZ First MPs talk about their work in office. It serves as an information session on what the workload of an MP looks like, but it also serves to hold these Caucus members accountable to their own Party membership.
This year's Convention, all nine MPs (with the exception of Party leader Winston Peters, who gives his during the Leader's Address) gave Party members an insight of their daily work and a reflection of how the previous two years in government has been.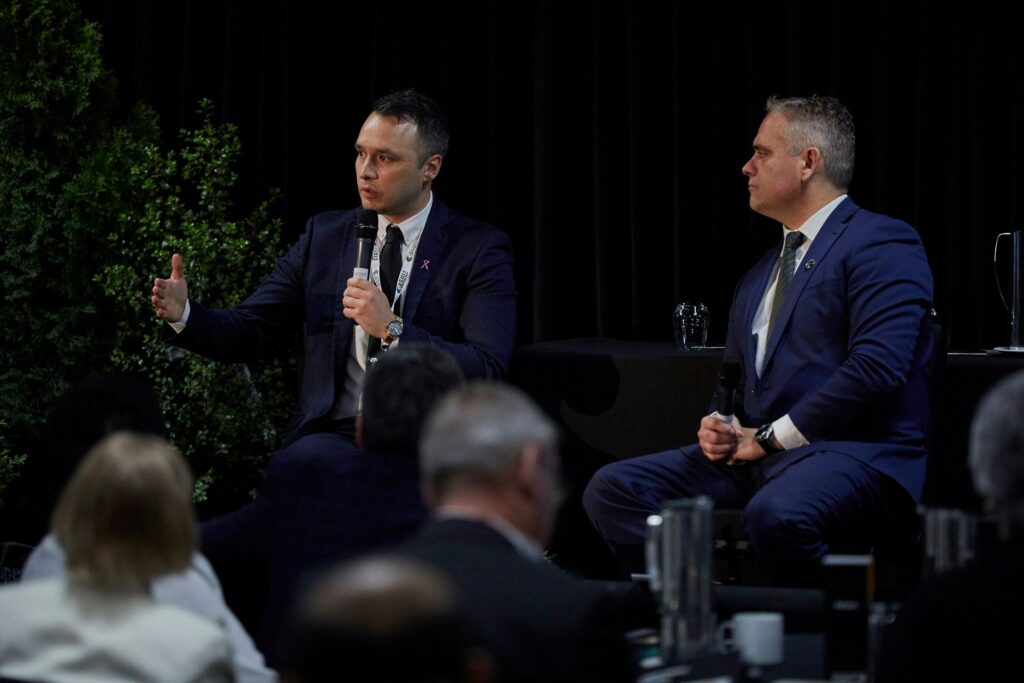 Deputy Leader Fletcher Tabuteau took the stage first, and gave an overview of his role as an MP but also his work as under-secretary for Regional Economic Development and Foreign Affairs. The list-MP based in Rotorua reflected on the success NZ First has achieved while in Coalition Government, including the implementation of two long-standing party policies: removal of the secondary tax, and a wholesale review of the electricity industry.
The burden of secondary tax was lifted off the backs of many New Zealanders in March 2019, as the Coalition Government ordered the implementation of a withholding tax rate instead. A review into the electricity sector was also completed early this month, and the changes suggested by the report is touted to tilt the balance in favour of consumers.
As a proud local of the tourist city of Rotorua, Fletcher also highlighted the massive $40 million Rotorua Lakefront development project that was secured from the Provincial Growth Fund – another NZ First initiative. The Deputy Leader revealed that by funding the development, private enterprises in the Bay of Plenty were also encouraged to invest in the city, including a local iwi that was establishing a spa pool near the Lakefront project.
Meet the junior MPs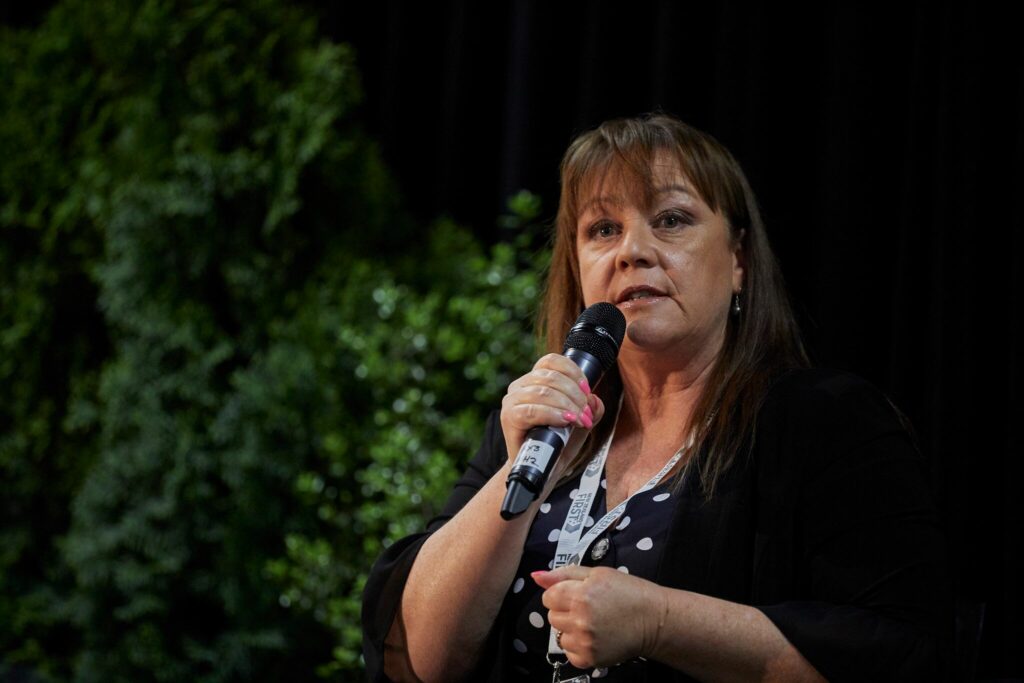 Following Fletcher was first-term MP and Party spokesperson for broadcasting, Jenny Marcroft. Prior to entering Parliament, she had a long career in broadcast journalism and talked about her work promoting Māori culture through film.
Jenny revealed that she was working with documentary filmmakers to produce several films, including the Stories of Ruapekapeka – a documentary narrating one of New Zealand's most famous wars. She has also pushed for public broadcasting in the Pacific Islands, by ensuring there is greater access to Radio NZ among our regional neighbours.
After Jenny's presentation, another first-term MP made his report. Mark Patterson is New Zealand First's only MP based in the South Island, and was a sheep farmer in the small town of Lawrence before assuming office as an MP.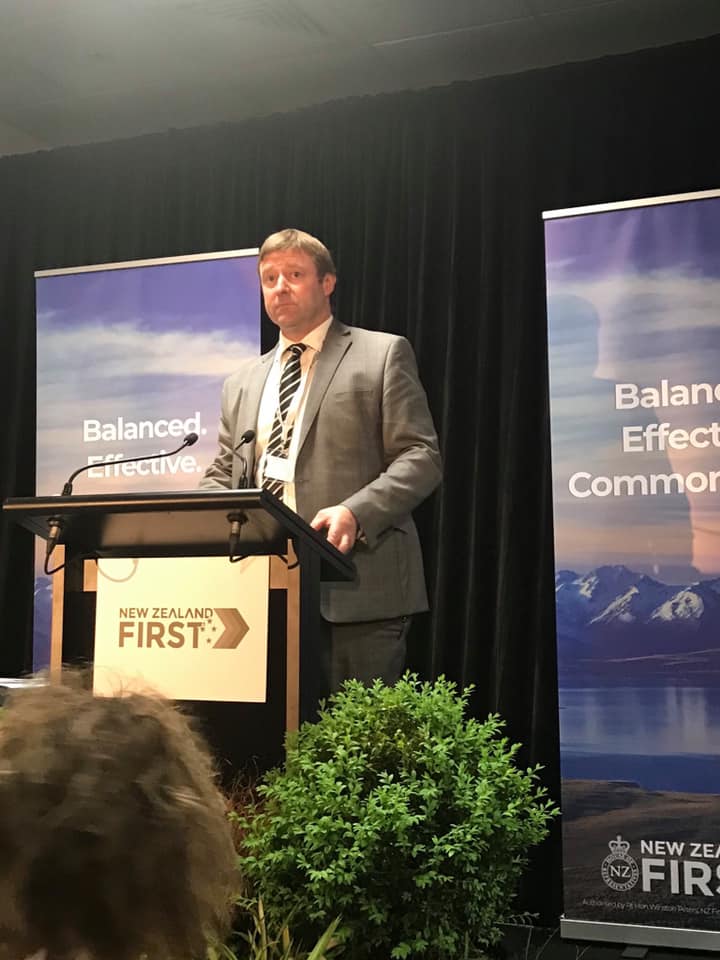 Sticking true to his passion, Mark gave an insight of the work he has been doing in the area of agriculture. New Zealand's primary exports hit a record high of $46 billion this year, and that was pushed by skyrocketing demand for our sheep and beef exports as well as our dairy exports.
However, what Mark was most excited to report about was the progress of a longstanding NZ First policy – the Farm Debt Mediation Bill. This legislation seeks to help farmers mediate their debts, and guarantees that a system of mediation to help find solutions would first be pursued to avoid property foreclosure.
The bill is currently due for second reading, but has been approved by Cabinet thanks to the influence of NZ First.
Ron Mark on Defense
Veteran NZ First MP and current Defense Minister Ron Mark followed, and was first congratulated by the audience for his bold move overruling an environmental court decision against the Whenuapai Airbase. A property developer had filed a noise complaint against the airbase which was upheld in the court, but thankfully the Minister overruled the decision using emergency powers under the RMA.
The airbase had been operating in the north Auckland suburb since WWII, and Ron expressed his astonishment that a property developer would come in to the area and complain about the base. The Defense Minister segued into the phenomenon of encroachment, and how it is fast becoming a big security threat for the New Zealand Defense Force.
The Whenuapai Airbase is a vital infrastructure for the NZDF because it is where pilots are trained for future operations. Had Ron not intervened, cleverly using his powers as Defense Minister, the airbase would not have been able to continue their operations.
Carrying on, Ron talked about the accomplishments he has made in his role as Defense Minister. He spoke of how delighted Pacific Island leaders were that New Zealand was investing in climate change response, given that it is their countries that will be inundated by rising sea levels first.
Not only that, climate change poses other problems for these island-nations such as ocean acidification, coral bleaching, salination of their soils, and frequent fish kills that stand to bankrupt their economies. By expanding New Zealand's defense capabilities, we are also able to help respond to the needs of our Pacific neighbours in times of emergency.
The party whips – Darroch Ball and Clayton Mitchell
Darroch Ball, junior party whip, spoke about his experience as an election observer in the Pacific. The Party spokesperson for electoral issues observed the elections in Fiji, the Solomon Islands, and in Bougainville, Papua New Guinea.
He expressed that he had a "great feeling of pride" representing New Zealand in ensuring that democracy is upheld in our Pacific neighbours. Darroch described the robustness of the democratic process in these Pacific island-nations, and expressed the need for New Zealand to be more pro-active in the region.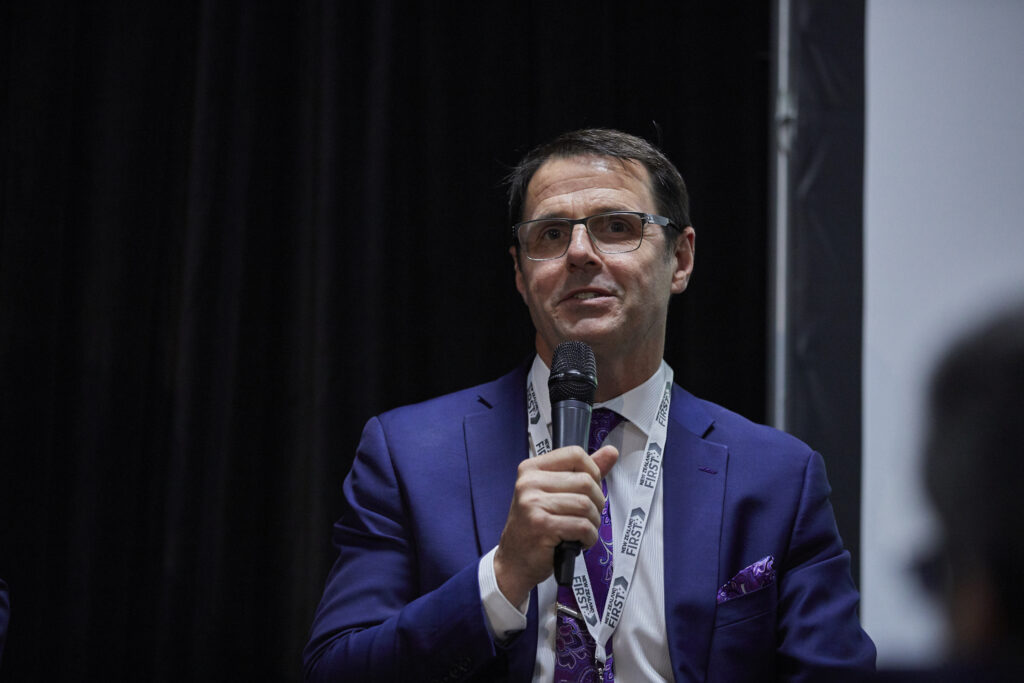 Senior party whip Clayton Mitchell also talked about his role in upholding democracy in New Zealand – and that is by ensuring the scheduling of NZ First MPs to different commitments. There needs to be a member of Caucus that attends the different debates in Parliament, the plethora of select committee proceedings, and also to seek leave from Parliament to meet with other stakeholders.
Besides that role, Clayton is also the Party's spokesperson for industrial relations. It is in that space that he proudly mentioned NZ First's accomplishment of bringing the minimum wage to $20 per hour by 2021, which is already at $17.70 per hour at the time of writing.
The 'Champion for the Regions'
Perhaps the only man who can rival Winston for headlines is Shane Jones, who holds the distinguished moniker as the "Champion for the Regions" – because of his work as Minister for Regional Economic Development. The Minister spoke of his work as the curator of the $1 billion per year Provincial Growth Fund, and how it is making a difference in our provinces.
Matua Shane discussed how the previous National Party-led government concentrated only on the "Golden Triangle", while ignoring the rest of the country. He said the PGF changed that regime, allowing for big-ticket projects to be funded in Northland, the East Coast, and the West-Coast Tasman.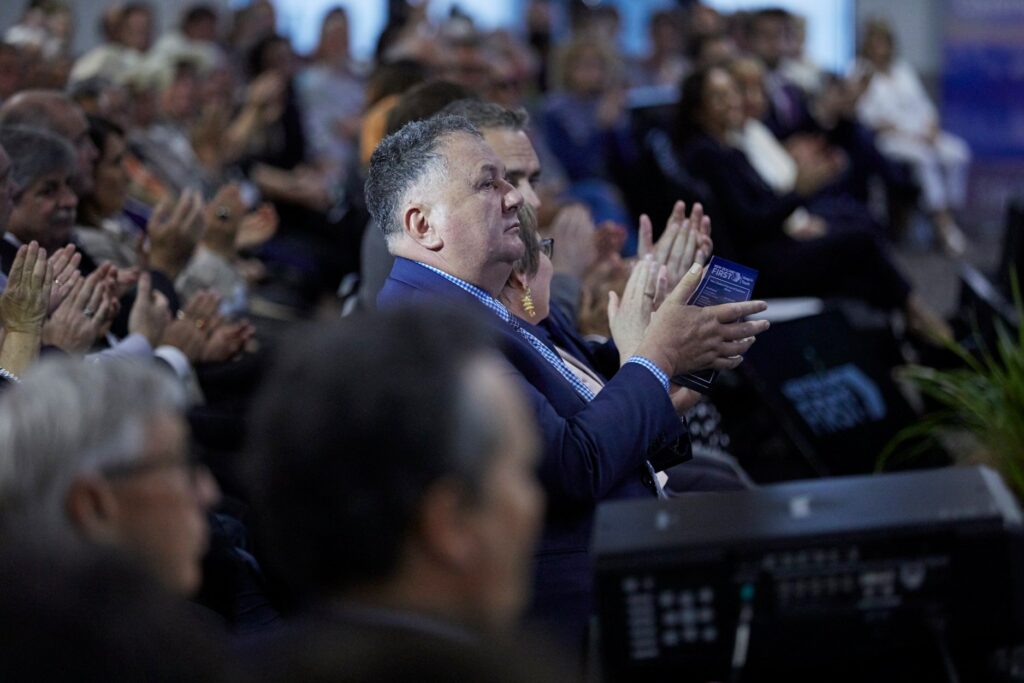 The Provincial Champion also serves as the Minister for Infrastructure, and again he took aim at the previous government for their negligence in this department. Shane lashed out at "self-appointed, King's College, Aucklanders" who made his job more difficult, and he created the Infrastructure Commission, to expedite the investment in infrastructure in New Zealand.
Minister Jones then spoke of NZ First's 2017 campaign promise to rehabilitate KiwiRail, the state-owned railway company. The Coalition Government has since invested $94.5 million to rejuvenate the North Auckland Line, and $1.3 billion to upgrade the Northland rail line.
How Tracey's experience as a stay-at-home mum helps her work
Capping the Caucus Report segment off was Cabinet Minister Tracey Martin, who is the Minister for Seniors, for Children, and for Internal Affairs. She gave a speech the day before on her work as the Minister in-charge of Oranga Tamariki, and reforms she has made since taking over from the previous administration.
For her Caucus report, Tracey spoke of how being a full-time mother for many years has influenced her decision-making: "Being a stay-at-home mum has made me aware of how the decisions I make affect other stay-at-home mums".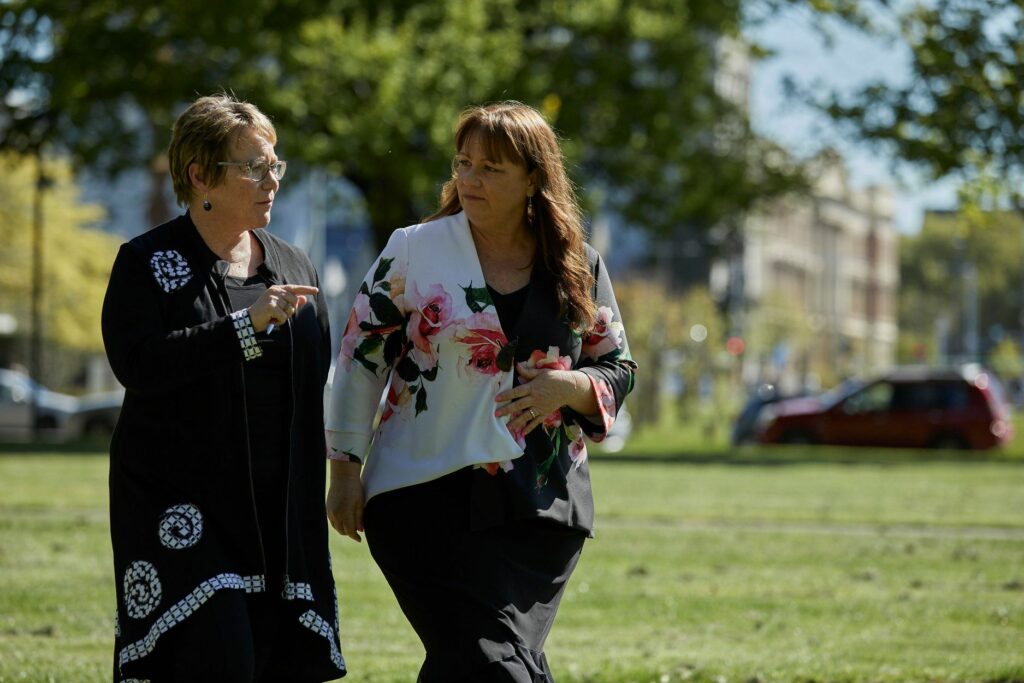 Tracey also spoke of the revamped SuperGold card, an NZ First trademark initiative, that has been modernised to have a smartphone app and an updated website. There is now 500 different businesses offering discounts and other benefits to seniors who are SuperGold card holders, and finding these establishments has been made easier with the new app.
There may seem to be a massive disconnect between Tracey's role as Minister for Seniors and for Children, but actually those two hats of hers have a lot of parallels. Both demographics are among the most vulnerable in society, and Minister Martin's hard work in these two portfolios are vital to improve the welfare of these New Zealanders.
State of the Caucus
It was a rare opportunity to gain an insight into the lives of Members of Parliament, who many of us probably feel are out of touch with the lives of ordinary New Zealanders. But as mentioned, Tracey Martin literally makes decisions bearing in mind the impact those will have on every day Kiwis.
The testimonies we heard from the members of the NZ First caucus also paint a positive picture of the Party. For one, it shows that the Party's MPs were united, and were motivated to do work in their respective areas of responsibility.
Hearing the Caucus Report really energized the delegates present, many of them becoming knowledgeable of the work their representatives were doing that does not reach primetime news.
It would be interesting to know if other parties offer such an opportunity to their members during their respective annual conferences?