August 30th is remembered each year as the International Day of the Disappeared.
This day draws attention to the countless examples of forced disappearances worldwide, comprised mostly of activists and anti-government dissidents who had been abducted and detained extra-judicially by dictatorships.
In the Philippines, forced disappearances are not just remembered on this day – they are a lived reality. These have been regular occurrences under the Duterte regime, but by no means started during it.
Perhaps the earliest victim of forced disappearance, or desaparecido, was Charlie del Rosario – an activist during the Marcos regime. He was the founder of the Kabataang Makabayan (translation: Nationalist Youth; KM) and was last seen putting up posters advertising an upcoming protest against the dictatorship.
Del Rosario would never be seen again.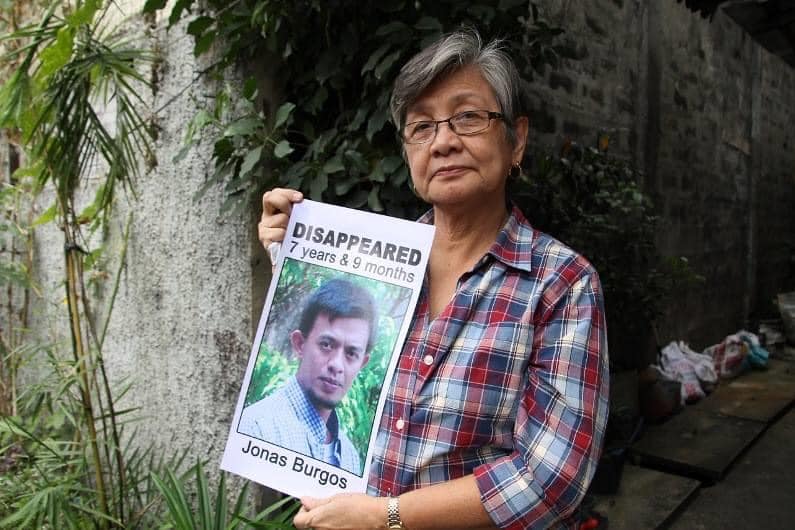 While Ferdinand Marcos was deposed in 1986 by a mass uprising, there had been almost 2,000 cases of forced disappearances since. The victims all share a common trait: they are anti-government activists who strived for radical social reforms.
One of the most prominent examples is Jonas Burgos, who was last seen in 2007. He was a farmer-activist who advocated for the rights of peasants and organised with the peasants mass organisation, Kilusang Mambubukid ng Pilipinas (KMP; translated: Peasants' Movement of the Philippines).
Jonas was having a meal at a shopping mall in Quezon City when he was forcibly taken by military agents, according to witnesses. A mall security guard testified that he was forced inside a vehicle with plate number TAB 194.
Edita Burgos, the activist's mother, filed a missing person report with the local police. What she discovered confirmed her worst fears: Philippine Police traced the plate number to a vehicle belonging to the 56th Infantry Battalion of the Philippine Army.
Senior Superintendent Joel Coronel, who led the police investigation of Jonas' disappearance, was relieved of his post shortly after he traced the vehicle in the abduction to the Army.
Jonas was a fierce opponent of then President Gloria Arroyo, his late father – Jose Burgos – was a journalist and critic of the Marcos regime and was also detained several times under that dictatorship.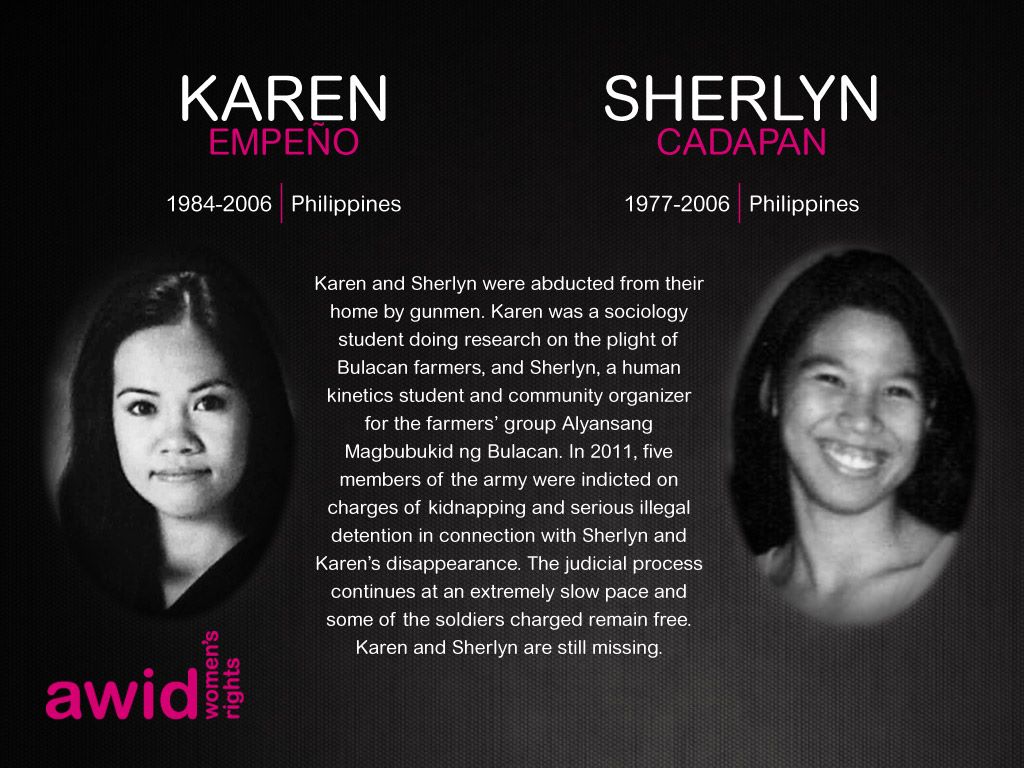 Jonas was not the only one who disappeared under the Arroyo regime, two female student-activists – Sherlyn Cadapan and Karen Empeño – were both abducted in Hagonoy, Bulacan province by suspected state forces in 2006.
They were in the area conducting research for a university requirement. According to eyewitness statements, Cadapan and Empeño were both tortured and later killed by the military under the command of General Jovito Palparan.
Palparan, dubbed as "The Butcher" by activist groups due to his suspected record of human rights abuses, was found guilty of kidnapping the two female students and was sentenced to life in 2018.
However, the whereabouts of Cadapan and Empeño – whether living or otherwise – remains unknown and both are still considered missing.
Under the reign of President Rodrigo Duterte, the number of desaparecidos have only increased.
Husband and wife duo Lora Manipis and Jeruel Domingo – both consultants of the National Democratic Front of the Philippines (NDFP) – disappeared in February 2018.
The couple were involved in peace negotiations between the Duterte government and the Communist Party of the Philippines (CPP) and were making preparations related to the peace deliberations when they were last seen by neighbours.
More recently, Elena Tijamo – a 58-year-old program coordinator at the Farmers Development Center (FARDEC) – was taken forcibly from her home in Cebu last June.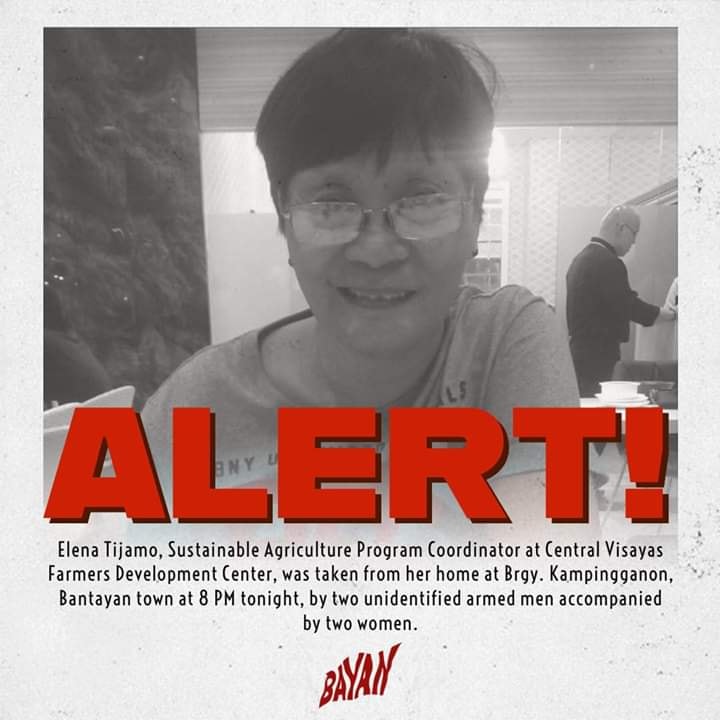 Her neighbours testified that unidentified men and one woman, all carrying high-calibre firearms, broke into Tijamo's residence in Bantayan Island, Cebu on the night of June 13th.
Elena's family received a text message from her mobile number that night stating she would be allowed to return home after 24 hours. When news broke out of her disappearance, this deadline would not be met.
Tijamo's work focused on sustainable agriculture and was a staunch advocate for peasants' rights and their welfare. Her involvement with activist organisations made her a target of state forces, this suspicion is further reinforced by revelations from Elena's family that individuals would visit their residence and take photos of the latter – indicating that she was being surveilled.
Elena would follow the same fate as her fellow peasants' rights advocates Jonas Burgos, Karen Empeño and Sherlyn Cadapan.
Opposing the government is not a crime, organised dissent is a key component of a democratic society. There were no lega justifications for the military to abduct and detain these disappeared activists.
Unfortunately, the plight of activists is expected to only worsen under the Duterte regime. The passage of the Anti-Terrorism Law, a draconian legislation that gives the Executive unprecedented powers to arrest, detain, and even surveil so-called "suspected terrorists" will only make it easier for more forced disappearances to occur.
For this year's International Day of the Disappeared, we should not only remember those who have disappeared but also raise awareness of the grave injustices being committed by despots around the world including the Duterte regime in the Philippines.