Former President Rodrigo Duterte's administration may feel like a distant memory now, but the hurt felt by activists, unionists, and journalists is still felt today.
During his time, Filipinos who dissented against the Philippine government would constantly fear forced abduction, arrest on bogus charges, or even worse – be victimised by extrajudicial killings.
Less than a year into incumbent President Ferdinand "Bongbong" Marcos Jr.'s administration, we can already see that the disregard for human rights and the crackdown of activists has not abated.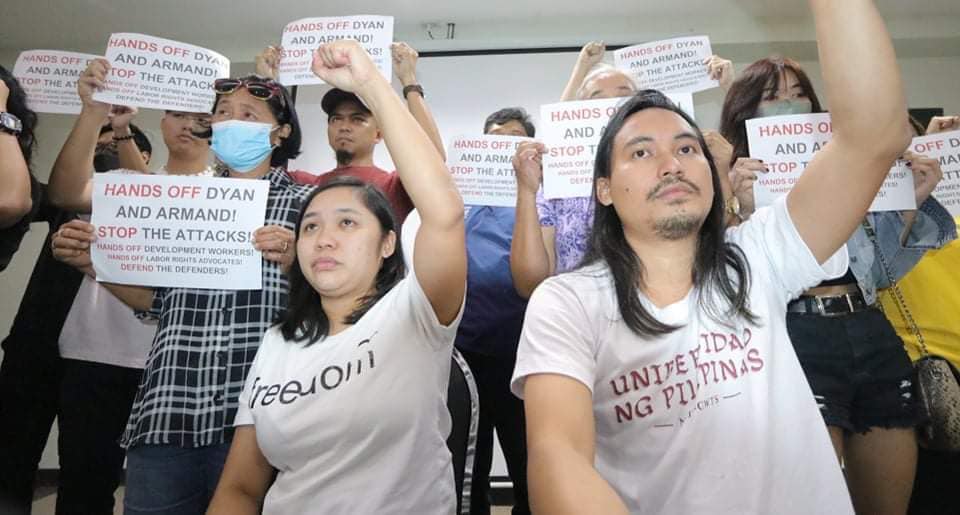 Earlier this month, the families of Dyan Gumanao and Armand Dayoha made a plea to the public after the two mysteriously went missing after travelling to Cebu on 10 January. The two are labour rights activists with the Alliance of Concerned Teachers-Cebu (ACT-Cebu) and Alliance of Health Workers-Cebu respectively.
Gumanao's father, Danny, said he last heard from his daughter on the morning of 10 January when she texted that she and Armand had docked at Cebu City Port around 8 a.m. – that was the last he heard from Dyan for many days.
What made both their respective families' nervous is that prior to their disappearance, Gumanao and Dayoha had both reported they were being tailgated by unknown men after attending protest actions. Dyan was among seven activists arrested for protesting the passage of the draconian Anti-Terrorism Law in 2020.
Her arrest in 2020 was already a blatant example of disregard for human rights and the right to assembly guaranteed by the Philippine Constitution, but after charges against her were dismissed by the court, Gumanao as well as Dayoha had began to experience surveillance by unidentified men who they allege were agents of the state.
It wouldn't be far-fetched to assume that these same unidentified men stalking them were also behind their disappearance. Instances of enforced disappearances of activists are not unheard of in the Philippines, and Gumanao and Dayoha's parents were fearing the worst.
Video shows abduction of Dyan Gumanao and Armand Dayoha at Cebu City Port on January 10.
Fortunately, Dyan and Armand would resurface on January 16 unhurt. The details of their disappearance, however, proved their respective families had all the reason to worry.
The couple recounted how they were approached by a group of men, who identified themselves as members of the Philippine National Police (PNP), at Cebu City Port. Both were forced into a vehicle and blindfolded, before being taken to an unknown location and were interrogated – repeatedly accused of being "terrorists" with the communist New People's Army (NPA).
A member of the public who witnessed the incident at Cebu City Port captured the entire ordeal on video. What transpired clearly corroborates the couple's abduction claims. This despite both the PNP and the Philippine Coast Guard (PCG) denying that any commotion happened at the Port on that day – a clear lie refuted by the video.
Aside from Gumanao and Dayoha, other members of the public who witnessed their abduction also relayed that the men who apprehended the couple had identified themselves as police. But as expected, the PNP continues to deny any involvement in what happened to the two – refusing to even call it an abduction to begin with.
If state agents are not involved at all, why would both the police and coast guard lie about any commotion happening at the Port on the day? What were they hiding?
Who would have motive to abduct two working-class academics and human rights activists, aside from the Philippine Government which has a long history of targeting activists?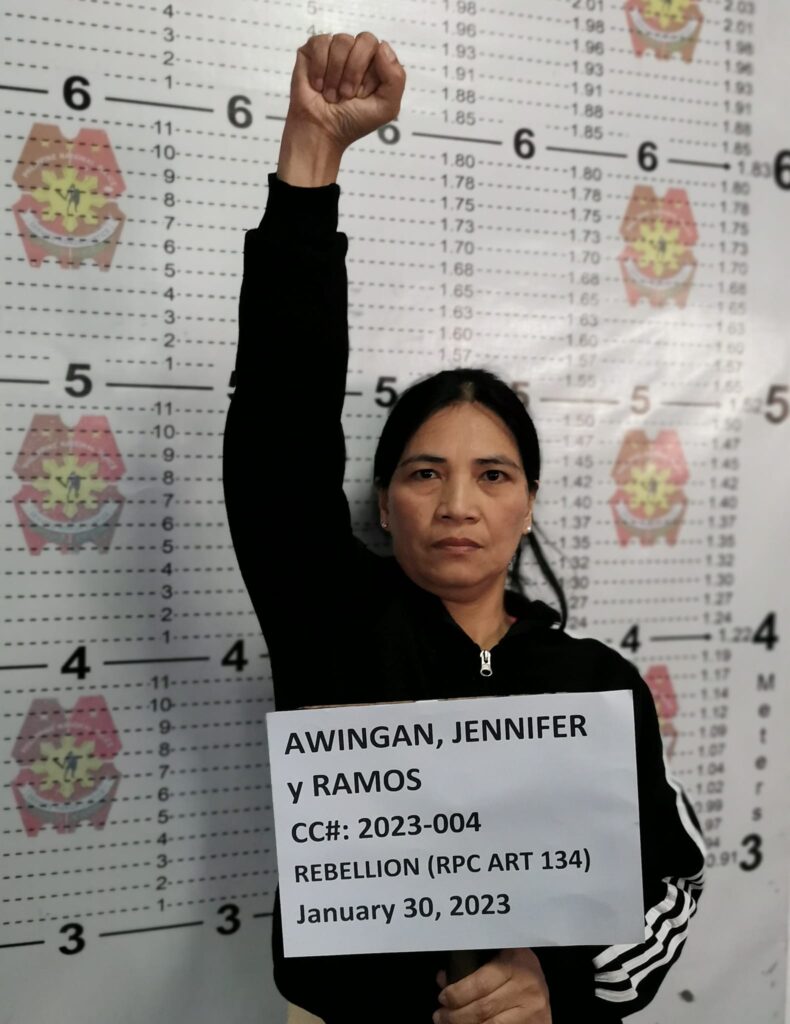 While Filipino activists are still rocked about what happened to Armand Dayoha and Dyan Gumanao, state forces wasted no time and cracked-down on another activist on 30 January.
Jennifer Awingan, an activist and researcher with the Cordillera Peoples Alliance Research Commission, was arrested by the PNP on bogus charges of "rebellion or insurrection" – a non-bailable offense.
A member of the indigenous Kalinga people of northern Philippines, Awingan was a staunch advocate for the environment and had been vocal against large-scale mining companies operating in her ancestral land in the Cordillera Mountain Range.
Much like Dayoha and Gumanao, Awingan's arrest is allegedly because she is "a high-ranking official" of the Communist Party of the Philippines (CPP). In short, she has been red-tagged and is accused of being part of the underground communist rebellion.
It is highly questionable how a middle-aged woman who has a full-time job could have time to be involved in a clandestine insurrection. But as we have grown accustomed to during the Duterte administration, evidence doesn't matter.
Accusations of rebellion or terrorism are merely plots to intimidate and silence activists who get in the way of the affairs of the bureaucratic capitalists who control the Philippine Government.
Awingan's case blatantly stems from her activist work and her opposition to the mining industry in the country, who are known to have powerful backers in the Philippine Government.
Earlier this month, it was revealed how the Marcos administration blocked a directive from the Department of Environment and Natural Resources (DENR) that ordered a Chinese-controlled firm, Yinglong Steel Corp., to stop its illegal nickel-mining operations in northern Philippines.
If mining corporations are able to defy a Government department, they can silence an activist who casts a spotlight on the damage they inflict on the natural environment with ease.
Jennifer Awingan, Armand Dayoha, and Dyan Gumanao are the latest in a long line of activists who have been cracked down by the State and branded as communists and terrorists. Their "crimes" were merely that they showed a conscience – they showed concern for low-wage earners, human rights, and the environment.
Their abduction and arrest prove to us that the culture of impunity that was ubiquitous under the Duterte regime did not end with the barbaric dictator from Davao City's departure from the Presidential Palace. It is only going to continue under the incumbent administration of Ferdinand Marcos Jr., and as it was during the previous administration it should be resisted and exposed under the current regime too.