Botany electorate MP Jami-Lee Ross made headlines in 2018 when he blew the whistle on a large donation by a Chinese businessman to his former National Party was broken up into smaller sums to evade electoral donation laws.
Ross' revelation that a certain Zhang Yikun, a prominent figure among New Zealand's Chinese diaspora, donated $100,000 to the Party which was kept hidden from mandatory donation declarations, eventually led to the former's expulsion from that party.
However, even as an independent MP Ross has not relented from exposing fraudulent electoral donations made to the National Party. An example was the $150,000 donation from Chinese company Inner Mongolia Rider Horse Industry, which was secured after National MP Todd McClay visited the company's owner in China while serving in his former capacity as the Trade Minister.
On the 5th of March, Ross gave a speech in Parliament about another $150,000 donation to the National Party from the Chinese. That in itself is major news, but what made his most recent revelations all the more astonishing was that the money came from the Chinese Community Party (CCP) itself.
This contrasts with the Botany MP's previous exposes, where the alleged fraudulent donation was sifted to the Party from New Zealand residents of Chinese descent. What Ross declared on the 4th of March was that the money came straight from China's ruling party, a rising imperialist power in global affairs.
"Last year I learned – off the back of concerns I, myself took to the proper authorities – that the National Party had been the beneficiary of large amounts of foreign donations. These donations are linked back to China, are linked to the Chinese Communist Party and with ease entered New Zealand." (Jami-Lee Ross, 4th of March 2020)
The implications of this allegation is enormous, a foreign power is directly funding a political party here in New Zealand – and looking back historically, these kinds of assistance don't come without any strings attached. If the CCP is funding the National Party, what are they receiving in return?
Ross continued to say that unlike the previous donations in question, he was not privy of this donation from China and only knew about it after being questioned regarding it:
"I didn't go searching for these information, I was asked if I knew of the origins of the donations. I didn't know, it was all new information to me and I was surprised by what I learned. What I learned was that large sums of money, adding up to about $150,000 coming directly out of China in Chinese yuan over successive years ended up as political party donations."
Ross also clarified that this $150,000 donation is different from the same amount he voiced concerns about last year from the Inner Mongolia Rider Horse company. This means that adding the $100,000 donation from Zhang Yikun, the National Party is a direct recipient of at least $400,000 of political donations from Chinese entities.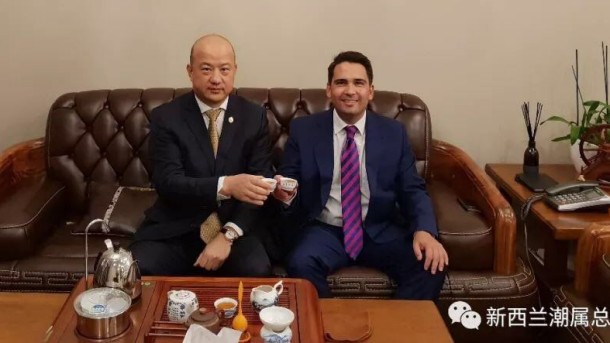 To facilitate the transfer of this fresh $150,000 sum, Ross said that two Chinese-New Zealanders: Zhang Shaona & Xi Xiaoli, were "used as conduits for the donations." However, University of Canterbury professor Anne-Marie Brady – who devotes her academic career studying Chinese foreign interference in other country – quickly took note that those two names do not appear anywhere on the Electoral Commission's records.
Breaking news ?@jamileeross reveals another CCP-related donation @NZNationalParty $150,000 received via Zhang Yikun's sister, Zhang Shaona & Xi Xiaoli.
Does not appear on @ElectoralCommNZ records
at 5.51-7.17 sec https://t.co/yNOT4Wix16

— Professor Anne-Marie Brady (@Anne_MarieBrady) March 5, 2020
In short, it is possible that Ross has just blown the whistle on another fraudulent donation to the National Party coming from foreign interests. Prof. Brady also pointed out that Zhang Shaona is the sister of Zhang Yikun.
Carrying on with his expose, Ross said that the Zhang Yikun's representatives released several press statements highlighting the businessman's philanthropic activities in New Zealand. One of these press statements mentioned that he has been "donating to many political parties and campaigns."
Ross found that claim suspicious since Zhang's name does not appear on any political party return. This means that the businessman is a frequent patron of political parties, and since the plural had been used in the press statement, it also shows that New Zealand political parties other than just National have been in receipt of these donations – but have not been disclosed, as mandated by law.
There is a lot to take in with Jami-Lee Ross' speech given on the 5th of March, but unfortunately no one paid close attention to it. Even worse, it seems most had forgotten of his revelations by now.
The speech can be summed up to the National Party being a frequent recipient of Chinese foreign donations, including a sum of $150,000 that came directly from the People's Republic and is linked to the Chinese Communist Party (CCP). These allegations, if true, means that our largest political party is supported by a foreign power which time and time again, has been shown to have imperialist ambitions.
Towards the end of his speech, Ross quoted Prof. Brady during the latter's submission to the Justice Select Committee saying: "foreign interference activities can only thrive if public opinion in the affected nation tolerates or condones it." By the way these serious allegations made by an elected MP has been largely swept under the rug by the general public, it seems this creeping imperialist influence will thrive in New Zealand.